CC Madhya 9.33 (1975)
From Vanisource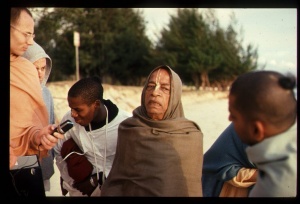 TEXT 33
sahasra-nāmnāṁ puṇyānāṁ
trir-āvṛttyā tu yat phalam
ekāvṛttyā tu kṛṣṇasya
nāmaikaṁ tat prayacchati
SYNONYMS
sahasra-nāmnām—of one thousand names; puṇyānām—holy; triḥ-āvṛttyā—by thrice chanting; tu—but; yat—which; phalam—result; eka-āvṛttyā—by one repetition; tu—but; kṛṣṇasya—of Lord Kṛṣṇa; nāma—holy name; ekam—only one; tat—that result; prayacchati—gives.
TRANSLATION
" 'The pious results derived from chanting the thousand holy names of Viṣṇu three times can be attained by only one utterance of the holy name of Kṛṣṇa.'
PURPORT
This verse from the Brahmāṇḍa Purāṇa is found in the Laghu-bhāgavatāmṛta (1.5.354), by Rūpa Gosvāmī. Simply by chanting the name of Kṛṣṇa once, one can attain the same results achieved by chanting the holy name of Rāma three times.