Radharani

Krishna

Caitanya

God

God's Holy Names

Krishna Consciousness Movement

Who Is Srila Prabhupada

his Timeline

Months in his Life

Training his Disciples

Questions

Bhagavad-gita

Devotees of God

Devotional Service to God

Discipleship

Guru / Acharya

Essential Subjects

Nectar Drops

What's in Vanipedia now

Glorious Personalities

Yoga

Collaborate with us to invoke and fully manifest Srila Prabhupada's Vani-presence.
---
CC Madhya 8.178
From Vanisource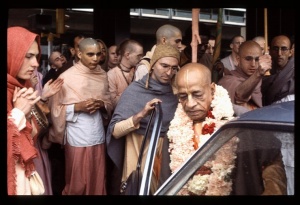 TEXT 178
nijāṅga-saurabhālaye garva-paryaṅka
tā'te vasi' āche, sadā cinte kṛṣṇa-saṅga
SYNONYMS
nija-aṅga—Her personal body; saurabha-ālaye—in the abode of aroma; garva—pride; paryaṅka—bedstead; tā'te—on that; vasi'—lying; āche—there is; sadā—always; cinte—thinks; kṛṣṇa-saṅga—the association of Kṛṣṇa.
TRANSLATION
"Śrīmatī Rādhārāṇī's bedstead is pride itself, and it is situated in the abode of Her bodily aroma. She is always seated there thinking of Kṛṣṇa's association.