Radharani

Krishna

Caitanya

God

God's Holy Names

Krishna Consciousness Movement

Who Is Srila Prabhupada

his Timeline

Months in his Life

Training his Disciples

Questions

Bhagavad-gita

Devotees of God

Devotional Service to God

Discipleship

Guru / Acharya

Essential Subjects

Nectar Drops

What's in Vanipedia now

Glorious Personalities

Yoga

Collaborate with us to invoke and fully manifest Srila Prabhupada's Vani-presence.
---
CC Madhya 8.162
From Vanisource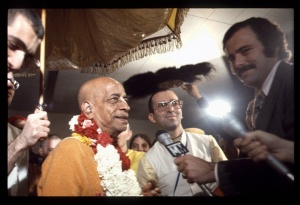 TEXT 162
premera 'svarūpa-deha'—prema-vibhāvita
kṛṣṇera preyasī-śreṣṭhā jagate vidita
SYNONYMS
premera—love of Godhead; svarūpa-deha—actual body; prema—by love of Godhead; vibhāvita—influence; kṛṣṇera—of Lord Kṛṣṇa; preyasī—of the dear friends; śreṣṭhā—topmost; jagate—throughout the whole world; vidita—known.
TRANSLATION
"The body of Śrīmatī Rādhārāṇī is a veritable transformation of love of Godhead; She is the dearmost friend of Kṛṣṇa, and this is known throughout the world.