CC Madhya 6.43 (1975)
From Vanisource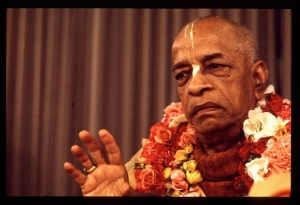 TEXT 43
sārvabhauma pariveśana karena āpane
prabhu kahe,--more deha lāphrā-vyañjane
SYNONYMS
sārvabhauma—Sārvabhauma Bhaṭṭācārya; pariveśana—distribution; karena—does; āpane—personally; prabhu kahe—Lord Caitanya Mahāprabhu said; more—unto Me; deha—please give; lāphrā-vyañjane—boiled vegetables.
TRANSLATION
While Sārvabhauma Bhaṭṭācārya personally distributed the prasāda, Lord Caitanya Mahāprabhu requested him, "Please give Me only boiled vegetables.
PURPORT
Lāphrā-vyañjana is a preparation in which many vegetables are boiled together, and then a cheṅkā is added, consisting of spices like cumin, black pepper and mustard seed.