Radharani

Krishna

Caitanya

God

God's Holy Names

Krishna Consciousness Movement

Who Is Srila Prabhupada

his Timeline

Months in his Life

Training his Disciples

Questions

Bhagavad-gita

Devotees of God

Devotional Service to God

Discipleship

Guru / Acharya

Essential Subjects

Nectar Drops

What's in Vanipedia now

Glorious Personalities

Yoga

Collaborate with us to invoke and fully manifest Srila Prabhupada's Vani-presence.
---
CC Madhya 24.301
From Vanisource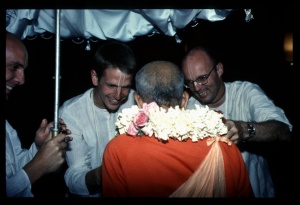 TEXT 301
'ātmārāmāś ca' samuccaye kahiye ca-kāra
'munayaś ca' bhakti kare,—ei artha tāra
SYNONYMS
ātmārāmāḥ ca—similarly the word ātmārāmāḥ with the word ca added; samuccaye—in aggregation; kahiye—means; ca-kāra—the word ca; munayaḥ ca—the word munayaḥ with the word ca added; bhakti kare—all of them engage in devotional service; ei artha tāra—this is the perfect meaning of the verse.
TRANSLATION
"After uttering the word 'ātmārāmāḥ' fifty-eight times and taking 'ca' in a sense of aggregation, one may add the word 'munayaḥ.' That will mean that great sages also render devotional service to Lord Kṛṣṇa. In this way there are fifty-nine meanings.