CC Madhya 24.117
From Vanisource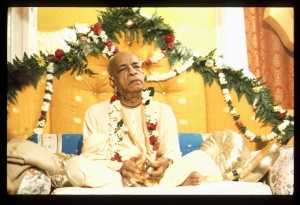 TEXT 117
harer guṇākṣipta-matir
bhagavān bādarāyaṇiḥ
adhyagān mahad-ākhyānaṁ
nityaṁ viṣṇu-jana-priyaḥ
SYNONYMS
hareḥ—of Lord Kṛṣṇa; guṇa-ākṣipta-matiḥ—whose mind was agitated by the qualities; bhagavān—the most powerful transcendentalist; bādarāyaṇiḥ—Śukadeva, son of Vyāsadeva; adhyagāt—studied; mahat-ākhyānam—the great epic description; nityam—eternally; viṣṇu-jana-priyaḥ—who is very dear to the Vaiṣṇavas, devotees of Lord Viṣṇu.
TRANSLATION
"'Being very much attracted by the transcendental pastimes of the Lord, the mind of Śrīla Śukadeva Gosvāmī was agitated by Kṛṣṇa consciousness. He therefore began to study Śrīmad-Bhāgavatam by the grace of his father.'
PURPORT
This is a quotation from Śrīmad-Bhāgavatam (SB 1.7.11).