Radharani

Krishna

Caitanya

God

God's Holy Names

Krishna Consciousness Movement

Who Is Srila Prabhupada

his Timeline

Months in his Life

Training his Disciples

Questions

Bhagavad-gita

Devotees of God

Devotional Service to God

Discipleship

Guru / Acharya

Essential Subjects

Nectar Drops

What's in Vanipedia now

Glorious Personalities

Yoga

Collaborate with us to invoke and fully manifest Srila Prabhupada's Vani-presence.
---
CC Madhya 23.86
From Vanisource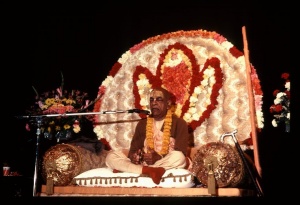 TEXT 86
ananta guṇa śrī-rādhikāra, paṅciśa—pradhāna
yei guṇera 'vaśa' haya kṛṣṇa bhagavān
SYNONYMS
ananta guṇa—unlimited qualities; śrī-rādhikāra—of Śrīmatī Rādhārāṇī; paṅciśa—twenty-five; pradhāna—chief; yei guṇera—by those qualities; vaśa—under the control; haya—is; kṛṣṇa—Lord Kṛṣṇa; bhagavān—the Supreme Personality of Godhead.
TRANSLATION
"Similarly, Śrīmatī Rādhārāṇī has unlimited transcendental qualities, of which twenty-five are principal. Śrī Kṛṣṇa is controlled by these transcendental qualities of Śrīmatī Rādhārāṇī.