Radharani

Krishna

Caitanya

God

God's Holy Names

Krishna Consciousness Movement

Who Is Srila Prabhupada

his Timeline

Months in his Life

Training his Disciples

Questions

Bhagavad-gita

Devotees of God

Devotional Service to God

Discipleship

Guru / Acharya

Essential Subjects

Nectar Drops

What's in Vanipedia now

Glorious Personalities

Yoga

Collaborate with us to invoke and fully manifest Srila Prabhupada's Vani-presence.
---
CC Madhya 23.33
From Vanisource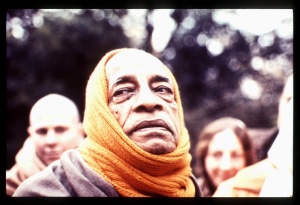 TEXT 33
rodana-bindu-maranda-syandi-dṛg-indīvarādya govinda
tava madhura-svara-kaṇṭhī gāyati nāmāvalīṁ bālā
SYNONYMS
rodana-bindu—with teardrops; maranda—like the nectar or juice of flowers; syandi—pouring; dṛk-indīvarā—whose lotus eyes; adya—today; govinda—O my Lord Govinda; tava—Your; madhura-svara-kaṇṭhī—who has a very sweet voice; gāyati—sings; nāma-āvalīm—holy names; bālā—this young girl (Rādhikā).
TRANSLATION
"'O Govinda, this youthful girl named Rādhikā is today constantly pouring forth tears like nectar falling from flowers as She sings Your holy names in a sweet voice.'
PURPORT
This verse is found in the Bhakti-rasāmṛta-sindhu (1.3.38).