Radharani

Krishna

Caitanya

God

God's Holy Names

Krishna Consciousness Movement

Who Is Srila Prabhupada

his Timeline

Months in his Life

Training his Disciples

Questions

Bhagavad-gita

Devotees of God

Devotional Service to God

Discipleship

Guru / Acharya

Essential Subjects

Nectar Drops

What's in Vanipedia now

Glorious Personalities

Yoga

Collaborate with us to invoke and fully manifest Srila Prabhupada's Vani-presence.
---
CC Madhya 22.87
From Vanisource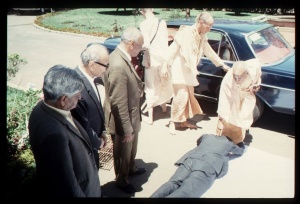 TEXT 87
asat-saṅga-tyāga,—ei vaiṣṇava-ācāra
'strī-saṅgī'—eka asādhu, 'kṛṣṇābhakta' āra
SYNONYMS
asat-saṅga-tyāga—rejection of the association of nondevotees; ei—this; vaiṣṇava-ācāra—the behavior of a Vaiṣṇava; strī-saṅgī—who associates with women for sense gratification; eka—one; asādhu—unsaintly person; kṛṣṇa-abhakta—one who is not a devotee of Lord Kṛṣṇa; āra—another.
TRANSLATION
"A Vaiṣṇava should always avoid the association of ordinary people. Common people are very much materially attached, especially to women. Vaiṣṇavas should also avoid the company of those who are not devotees of Lord Kṛṣṇa.