Radharani

Krishna

Caitanya

God

God's Holy Names

Krishna Consciousness Movement

Who Is Srila Prabhupada

his Timeline

Months in his Life

Training his Disciples

Questions

Bhagavad-gita

Devotees of God

Devotional Service to God

Discipleship

Guru / Acharya

Essential Subjects

Nectar Drops

What's in Vanipedia now

Glorious Personalities

Yoga

Collaborate with us to invoke and fully manifest Srila Prabhupada's Vani-presence.
---
CC Madhya 21.44
From Vanisource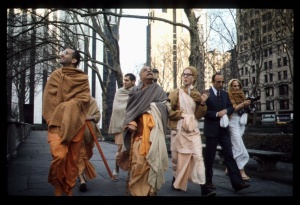 TEXT 44
madhuraiśvarya-mādhurya-kṛpādi-bhāṇḍāra
yogamāyā dāsī yāhāṅ rāsādi līlā-sāra
SYNONYMS
madhura-aiśvarya—of sweetness and opulence; mādhurya—of conjugal love; kṛpā-ādi—and of mercy and so on; bhāṇḍāra—storehouse; yoga-māyā—the spiritual energy; dāsī—maidservant; yāhāṅ—where; rāsa-ādi—the rāsa dance and other pastimes; līlā-sāra—the quintessence of all pastimes.
TRANSLATION
"Vṛndāvana is the storehouse of Kṛṣṇa's mercy and the sweet opulences of conjugal love. That is where the spiritual energy, working as a maidservant, exhibits the rāsa dance, the quintessence of all pastimes.