CC Madhya 20.380
From Vanisource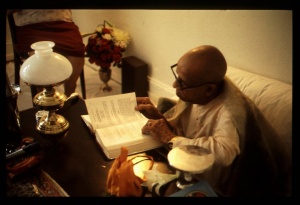 TEXT 380
vayaso vividhatve 'pi
sarva-bhakti-rasāśrayaḥ
dharmī kiśora evātra
nitya-līlā-vilāsavān
SYNONYMS
vayasaḥ—of age; vividhatve—in varieties; api—although; sarva—of all kinds; bhakti-rasa-āśrayaḥ—the shelter of devotional service; dharmī—whose constitutional nature; kiśoraḥ—in the age before youth; eva—certainly; atra—in this; nitya-līlā—of eternal pastimes; vilāsa-vān—the supreme enjoyer.
TRANSLATION
"'The Supreme Personality of Godhead is eternally enjoying Himself, and He is the shelter of all kinds of devotional service. Although His ages are various, His age known as kiśora [pre-youth] is best of all.'
PURPORT
This verse is found in the Bhakti-rasāmṛta-sindhu (2.1.63).