Radharani

Krishna

Caitanya

God

God's Holy Names

Krishna Consciousness Movement

Who Is Srila Prabhupada

his Timeline

Months in his Life

Training his Disciples

Questions

Bhagavad-gita

Devotees of God

Devotional Service to God

Discipleship

Guru / Acharya

Essential Subjects

Nectar Drops

What's in Vanipedia now

Glorious Personalities

Yoga

Collaborate with us to invoke and fully manifest Srila Prabhupada's Vani-presence.
---
CC Madhya 20.157
From Vanisource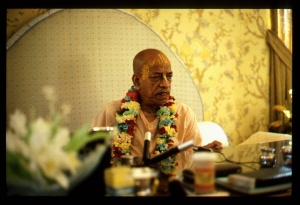 TEXT 157
jñāna, yoga, bhakti,—tina sādhanera vaśe
brahma, ātmā, bhagavān—trividha prakāśe
SYNONYMS
jñāna—knowledge; yoga—mystic power; bhakti—devotional service; tina—three; sādhanera—of the processes of spiritual life; vaśe—under the control; brahma—impersonal Brahman; ātmā—localized Paramātmā; bhagavān—the Supreme Personality of Godhead; tri-vidha prakāśe—three kinds of manifestation.
TRANSLATION
"There are three kinds of spiritual processes for understanding the Absolute Truth—the processes of speculative knowledge, mystic yoga and bhakti-yoga. According to these three processes, the Absolute Truth is manifested as Brahman, Paramātmā or Bhagavān.