Collaborate with us to invoke and fully manifest Srila Prabhupada's Vani-presence.
---
CC Madhya 2.58
From Vanisource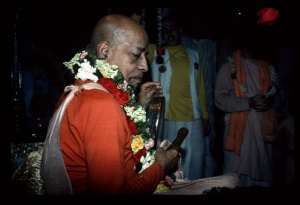 TEXT 58
amūny adhanyāni dināntarāṇi hare tvad-ālokanam antareṇa anātha-bandho karuṇaika-sindho hā hanta hā hanta kathaṁ nayāmi
SYNONYMS
amūni—all those; adhanyāni—inauspicious; dina-antarāṇi—other days; hare—O My Lord; tvat—of You; ālokanam—seeing; antareṇa—without; anātha-bandho—O friend of the helpless; karuṇā-eka-sindho—O only ocean of mercy; hā hanta—alas; hā hanta—alas; katham—how; nayāmi—shall I pass.
TRANSLATION
"'O My Lord, O Supreme Personality of Godhead, O friend of the helpless! You are the only ocean of mercy! Because I have not met You, My inauspicious days and nights have become unbearable. I do not know how I shall pass the time.'
PURPORT
This is a verse from the Kṛṣṇa-karṇāmṛta (41), by Bilvamaṅgala Ṭhākura.