CC Madhya 2.36
From Vanisource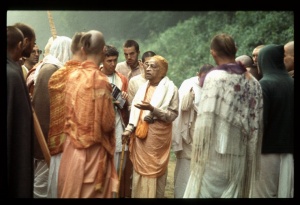 TEXT 36
yadā yāto daivān madhu-ripur asau locana-pathaṁ
tadāsmākaṁ ceto madana-hatakenāhṛtam abhūt
punar yasminn eṣa kṣaṇam api dṛśor eti padavīṁ
vidhāsyāmas tasminn akhila-ghaṭikā ratna-khacitāḥ
SYNONYMS
yadā—when; yātaḥ—entered upon; daivāt—by chance; madhu-ripuḥ—the enemy of the demon Madhu; asau—He; locana-patham—the path of the eyes; tadā—at that time; asmākam—our; cetaḥ—consciousness; madana-hatakena—by wretched Cupid; āhṛtam—stolen; abhūt—has become; punaḥ—again; yasmin—when; eṣaḥ—Kṛṣṇa; kṣaṇam api—even for a moment; dṛśoḥ—of the two eyes; eti—goes to; padavīm—the path; vidhāsyāmaḥ—we shall make; tasmin—at that time; akhila—all; ghaṭikāḥ—indications of time; ratna-khacitāḥ—bedecked with jewels.
TRANSLATION
"'If by chance the transcendental form of Kṛṣṇa comes before My path of vision, My heart, injured from being beaten, will be stolen away by Cupid, happiness personified. Because I could not see the beautiful form of Kṛṣṇa to My heart's content, when I again see His form I shall decorate the phases of time with many jewels.'
PURPORT
This verse is spoken by Śrīmatī Rādhārāṇī in the Jagannātha-vallabha-nāṭaka (3.11) of Rāmānanda Rāya.