Radharani

Krishna

Caitanya

God

God's Holy Names

Krishna Consciousness Movement

Who Is Srila Prabhupada

his Timeline

Months in his Life

Training his Disciples

Questions

Bhagavad-gita

Devotees of God

Devotional Service to God

Discipleship

Guru / Acharya

Essential Subjects

Nectar Drops

What's in Vanipedia now

Glorious Personalities

Yoga

Collaborate with us to invoke and fully manifest Srila Prabhupada's Vani-presence.
---
CC Madhya 19.126
From Vanisource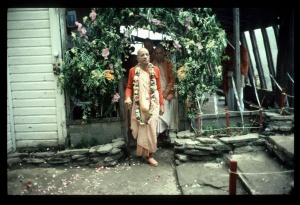 TEXT 126
kaiche aṣṭa-prahara karena śrī-kṛṣṇa-bhajana?"
tabe praśaṁsiyā kahe sei bhakta-gaṇa
SYNONYMS
kaiche—how; aṣṭa-prahara—twenty-four hours; karena—do; śrī-kṛṣṇa-bhajana—worshiping of Lord Kṛṣṇa; tabe—at that time; praśaṁsiyā—praising; kahe—described; sei bhakta-gaṇa—those devotees.
TRANSLATION
The Lord's associates would also ask, "How is it that Rūpa and Sanātana are engaging in devotional service twenty-four hours daily?" At that time the person who had returned from Vṛndāvana would praise Śrīla Rūpa and Sanātana Gosvāmīs.