CC Madhya 18.57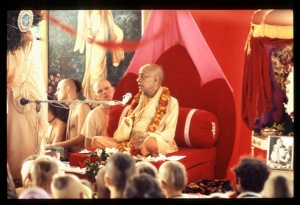 TEXT 57
tāhāṅ līlā-sthalī dekhi' gelā 'nandīśvara'
'nandīśvara' dekhi' preme ha-ilā vihvala
SYNONYMS
tāhāṅ—at Kāmyavana; līlā-sthalī—all the places of pastimes; dekhi'—visiting; gelā nandīśvara—went to Nandīśvara; nandīśvara dekhi'—while seeing Nandīśvara; preme ha-ilā vihvala—became overwhelmed by ecstatic love.
TRANSLATION
After visiting the places of Kṛṣṇa's pastimes at Kāmyavana, Śrī Caitanya Mahāprabhu went to Nandīśvara. While there, He was overwhelmed with ecstatic love.
PURPORT
Nandīśvara is the house of Mahārāja Nanda.