CC Madhya 18.52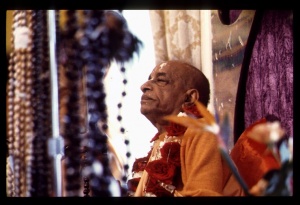 TEXT 52
'govinda' bhakta, āra vāṇī-kṛṣṇadāsa
puṇḍarīkākṣa, īśāna, āra laghu-haridāsa
SYNONYMS
govinda—Govinda; bhakta—a great devotee; āra—and; vāṇī-kṛṣṇadāsa—Vāṇī Kṛṣṇadāsa; puṇḍarīkākṣa—Puṇḍarīkākṣa; īśāna—Īśāna; āra—and; laghu-haridāsa—Laghu Haridāsa.
TRANSLATION
The great devotee Govinda, Vāṇī Kṛṣṇadāsa, Puṇḍarīkākṣa, Īśāna and Laghu Haridāsa also accompanied him.
PURPORT
Laghu Haridāsa should not be confused with Junior Haridāsa, who committed suicide at Prayāga. Generally a devotee is called Haridāsa, and consequently there are many Haridāsas. The chief was Ṭhākura Haridāsa. There was also a Madhyama Haridāsa.
In the Bhakti-ratnākara (Sixth Wave), there is a list of many of the chief devotees who accompanied Śrīla Rūpa Gosvāmī.
gosvāmī gopāla-bhaṭṭa ati dayāmaya
bhūgarbha, śrī-lokanātha—guṇera ālaya
śrī-mādhava, śrī-paramānanda-bhaṭṭācārya
śrī-madhu-paṇḍita—yāṅra caritra āścarya
premī kṛṣṇadāsa kṛṣṇadāsa brahmacārī
yādava ācārya, nārāyaṇa kṛpāvān
śrī-puṇḍarīkākṣa-gosāñi, govinda, īśāna
śrī-govinda vāṇī-kṛṣṇadāsa aty-udāra
śrī-uddhava—madhye-madhye gauḍe gati yāṅra
dvija-haridāsa kṛṣṇadāsa kavirāja
śrī-gopāla-dāsa yāṅra alaukika kāya
śrī-gopāla, mādhavādi yateka vaiṣṇava
"The following Vaiṣṇavas were present with Śrīla Rūpa Gosvāmī: the merciful Gopāla Bhaṭṭa Gosvāmī; Bhūgarbha Gosvāmī; Śrī Lokanātha dāsa Gosvāmī, a reservoir of good qualities; Śrī Mādhava; Śrī Paramānanda Bhaṭṭācārya; Śrī Madhu Paṇḍita, whose characteristics are all wonderful; Premī Kṛṣṇadāsa; Kṛṣṇadāsa Brahmacārī; Yādava Ācārya; the merciful Nārāyaṇa; Śrī Puṇḍarīkākṣa Gosvāmī; Govinda; Īśāna; Śrī Govinda; the magnanimous Vāṇī Kṛṣṇadāsa; Śrī Uddhava, who occasionally visited Bengal; Dvija Haridāsa; Kṛṣṇadāsa Kavirāja; Śrī Gopāla dāsa, whose body is completely spiritual; Śrī Gopāla; Mādhava; and many others."