CC Madhya 18.189 (1975)
From Vanisource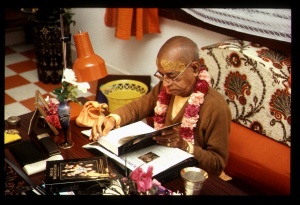 TEXT 189
Whatever arguments he put forward, the Lord refuted them all. Finally the person became stunned and could not speak.
SYNONYMS
prabhu kahe—Śrī Caitanya Mahāprabhu continued to speak; tomāra śāstra—your scripture (the Koran); sthāpe—establishes; nirviśeṣe—impersonalism; tāhā khaṇḍi'-refuting that; sa-viśeṣa—personal God; sthāpiyāche—established; śeṣe-at the end.
TRANSLATION
Śrī Caitanya Mahāprabhu said, "The Koran has certainly established impersonalism, but at the end it refutes that impersonalism and establishes the personal God.