Radharani

Krishna

Caitanya

God

God's Holy Names

Krishna Consciousness Movement

Who Is Srila Prabhupada

his Timeline

Months in his Life

Training his Disciples

Questions

Bhagavad-gita

Devotees of God

Devotional Service to God

Discipleship

Guru / Acharya

Essential Subjects

Nectar Drops

What's in Vanipedia now

Glorious Personalities

Yoga

Collaborate with us to invoke and fully manifest Srila Prabhupada's Vani-presence.
---
CC Madhya 13.159
From Vanisource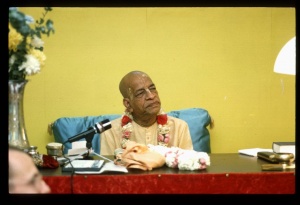 TEXT 159
eta tāṅre kahi kṛṣṇa, vraje yāite satṛṣṇa,
eka śloka paḍi' śunāila
sei śloka śuni' rādhā, khāṇḍila sakala bādhā,
kṛṣṇa-prāptye pratīti ha-ila
SYNONYMS
eta—so much; tāṅre—unto Rādhārāṇī; kahi—speaking; kṛṣṇa—Lord Kṛṣṇa; vraje—in Vṛndāvana; yāite—to go; sa-tṛṣṇa—very anxious; eka śloka—one verse; paḍi'—reciting; śunāila—making Her hear; sei śloka—that verse; śuni'—hearing; rādhā—Śrīmatī Rādhārāṇī; khāṇḍila—disappeared; sakala—all kinds of; bādhā—hindrances; kṛṣṇa-prāptye—in achieving Kṛṣṇa; pratīti ha-ila—there was assurance.
TRANSLATION
While speaking to Śrīmatī Rādhārāṇī, Kṛṣṇa became very anxious to return to Vṛndāvana. He made Her listen to a verse which banished all Her difficulties and which assured Her that She would again attain Kṛṣṇa.