Radharani

Krishna

Caitanya

God

God's Holy Names

Krishna Consciousness Movement

Who Is Srila Prabhupada

his Timeline

Months in his Life

Training his Disciples

Questions

Bhagavad-gita

Devotees of God

Devotional Service to God

Discipleship

Guru / Acharya

Essential Subjects

Nectar Drops

What's in Vanipedia now

Glorious Personalities

Yoga

Collaborate with us to invoke and fully manifest Srila Prabhupada's Vani-presence.
---
CC Madhya 1.255-256
From Vanisource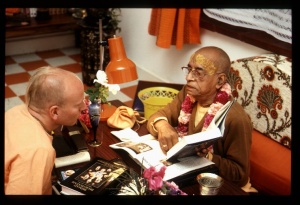 TEXTS 255-256
advaita, nityānanda, mukunda, śrīvāsa
vidyānidhi, vāsudeva, murāri,—yata dāsa
prativarṣe āise saṅge rahe cāri-māsa
tāṅ-sabā lañā prabhura vividha vilāsa
SYNONYMS
advaita—Advaita; nityānanda—Nityānanda; mukunda—Mukunda; śrīvāsa—Śrīvāsa; vidyānidhi—Vidyānidhi; vāsudeva—Vāsudeva; murāri—Murāri; yata dāsa—all servitors of the Lord; prativarṣe—each year; āise—go there; saṅge—in association; rahe—remain; cāri-māsa—four months; tāṅ-sabā—all of them; lañā—taking; prabhura—of the Lord; vividha—various; vilāsa—pastimes.
TRANSLATION
Other devotees of the Lord—headed by Advaita Ācārya, Nityānanda Prabhu, Mukunda, Śrīvāsa, Vidyānidhi, Vāsudeva and Murāri—used to visit Jagannātha Purī and remain with the Lord for four continuous months. The Lord enjoyed various pastimes in their company.