Radharani

Krishna

Caitanya

God

God's Holy Names

Krishna Consciousness Movement

Who Is Srila Prabhupada

his Timeline

Months in his Life

Training his Disciples

Questions

Bhagavad-gita

Devotees of God

Devotional Service to God

Discipleship

Guru / Acharya

Essential Subjects

Nectar Drops

What's in Vanipedia now

Glorious Personalities

Yoga

Collaborate with us to invoke and fully manifest Srila Prabhupada's Vani-presence.
---
CC Antya 10.64
From Vanisource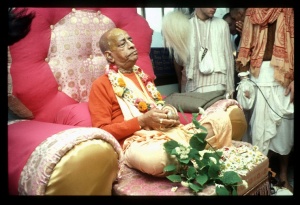 TEXT 64
kīrtana-āṭope pṛthivī kare ṭalamala
'hari-dhvani' kare loka, haila kolāhala
SYNONYMS
kīrtana-āṭope—by the force of congregational chanting; pṛthivī—the whole world; kare ṭalamala—trembles; hari-dhvani kare—chanted the transcendental sound Hari; loka—people in general; haila—there was; kolāhala—a tumultuous sound.
TRANSLATION
Due to the forceful vibration of kīrtana, the entire world began trembling. When everyone chanted the holy name, they made a tumultuous sound.