CC Antya 10.115 (1975)
From Vanisource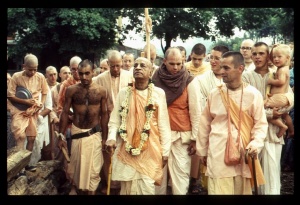 TEXT 115
tumi se nā khāo, tāṅrā puche bāra bāra
kata vañcanā karimu, kemane āmāra nistāra?"
SYNONYMS
tumi—You; se—that; nā khāo—do not eat; tāṅrā—they; puche—inquire; bāra bāra—again and again; kata vañcanā karimu—how long shall I cheat; kemane—how; āmāra—my; nistāra—deliverance.
TRANSLATION
"You do not eat it, but they ask me again and again. How long shall I go on cheating them? How shall I be freed from this responsibility?"