Radharani

Krishna

Caitanya

God

God's Holy Names

Krishna Consciousness Movement

Who Is Srila Prabhupada

his Timeline

Months in his Life

Training his Disciples

Questions

Bhagavad-gita

Devotees of God

Devotional Service to God

Discipleship

Guru / Acharya

Essential Subjects

Nectar Drops

What's in Vanipedia now

Glorious Personalities

Yoga

Collaborate with us to invoke and fully manifest Srila Prabhupada's Vani-presence.
---
CC Adi 6.65-66
From Vanisource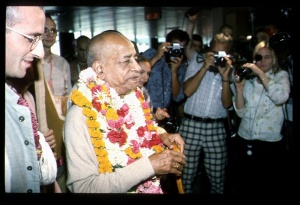 TEXTS 65-66
kṛṣṇera preyasī vraje yata gopī-gaṇa
yāṅra pada-dhūli kare uddhava prārthana
yāṅ-sabāra upare kṛṣṇera priya nāhi āna
tāṅhārā āpanāke kare dāsī-abhimāna
SYNONYMS
kṛṣṇera—of Lord Kṛṣṇa; preyasī—the beloved girls; vraje—in Vṛndāvana; yata—all; gopī-gaṇa—the gopīs; yāṅra—of whom; pada-dhūli—the dust of the feet; kare—does; uddhava—Uddhava; prārthana—desiring; yāṅ-sabāra—all of them; upare—beyond; kṛṣṇera—of Lord Kṛṣṇa; priya—dear; nāhi—there is not; āna—anyone else; tāṅhārā—all of them; āpanāke—to themselves; kare—do; dāsī-abhimāna—the conception of being maidservants.
TRANSLATION
Even the beloved girlfriends of Lord Kṛṣṇa in Vṛndāvana, the gopīs, the dust of whose feet was desired by Śrī Uddhava and who are more dear to Kṛṣṇa than anyone else, regard themselves as Kṛṣṇa's maidservants.