CC Adi 10.144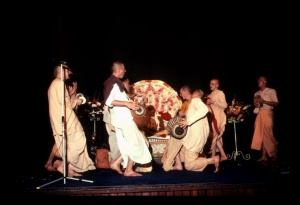 TEXT 144
bāiśa ghaḍā jala dine bharena rāmāi
govinda-ājñāya sevā karena nandāi
SYNONYMS
bāiśa—twenty-two; ghaḍā—big waterpots; jala—water; dine—daily; bharena—fills; rāmāi—Rāmāi; govinda-ājñāya—by the order of Govinda; sevā—service; karena—renders; nandāi—Nandāi.
TRANSLATION
Every day Rāmāi filled twenty-two big waterpots, whereas Nandāi personally assisted Govinda.
PURPORT
In the Gaura-gaṇoddeśa-dīpikā (139) it is stated that two servants who formerly supplied milk and water to Lord Kṛṣṇa became Rāmāi and Nandāi in the pastimes of Caitanya Mahāprabhu.