Radharani

Krishna

Caitanya

God

God's Holy Names

Krishna Consciousness Movement

Who Is Srila Prabhupada

his Timeline

Months in his Life

Training his Disciples

Questions

Bhagavad-gita

Devotees of God

Devotional Service to God

Discipleship

Guru / Acharya

Essential Subjects

Nectar Drops

What's in Vanipedia now

Glorious Personalities

Yoga

Collaborate with us to invoke and fully manifest Srila Prabhupada's Vani-presence.
---
BG 8.19 (1972)
From Vanisource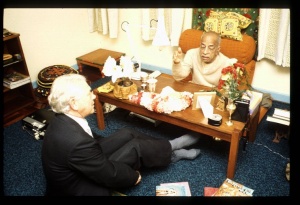 TEXT 19
भूतग्रामः स एवायं भूत्वा भूत्वा प्रलीयते ।
रात्र्यागमेऽवशः पार्थ प्रभवत्यहरागमे ॥१९॥
bhūta-grāmaḥ sa evāyaṁ
bhūtvā bhūtvā pralīyate
rātry-āgame 'vaśaḥ pārtha
prabhavaty ahar-āgame
SYNONYMS
bhūta-grāmaḥ—the aggregate of all living entities; saḥ—they; eva—certainly; ayam—this; bhūtvā bhūtvā—taking birth; pralīyate—annihilate; rātri—night; āgame—on arrival; avaśaḥ—automatically; pārtha—O son of Pṛthā; prabhavanti—manifest; ahaḥ—during daytime; āgame—on arrival.
TRANSLATION
Again and again the day comes, and this host of beings is active; and again the night falls, O Pārtha, and they are helplessly dissolved.