Radharani

Krishna

Caitanya

God

God's Holy Names

Krishna Consciousness Movement

Who Is Srila Prabhupada

his Timeline

Months in his Life

Training his Disciples

Questions

Bhagavad-gita

Devotees of God

Devotional Service to God

Discipleship

Guru / Acharya

Essential Subjects

Nectar Drops

What's in Vanipedia now

Glorious Personalities

Yoga

Collaborate with us to invoke and fully manifest Srila Prabhupada's Vani-presence.
---
BG 18.69 (1972)
From Vanisource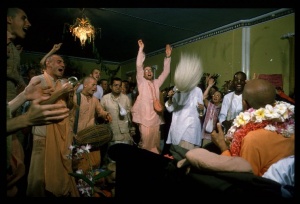 TEXT 69
न च तस्मान्मनुष्येषु कश्चिन्मे प्रियकृत्तमः ।
भविता न च मे तस्मादन्यः प्रियतरो भुवि ॥६९॥
na ca tasmān manuṣyeṣu
kaścin me priya-kṛttamaḥ
bhavitā na ca me tasmād
anyaḥ priyataro bhuvi
SYNONYMS
na—never; ca—and; tasmāt—therefore; manuṣyeṣu—among mankind; kaścit—anyone; me—My; priya-kṛttamaḥ—more dear; bhavitā—will become; na—no; ca—and; me—My; tasmāt—than him; anyaḥ—other; priyataraḥ—dearer; bhuvi—in this world.
TRANSLATION
There is no servant in this world more dear to Me than he, nor will there ever be one more dear.