Radharani

Krishna

Caitanya

God

God's Holy Names

Krishna Consciousness Movement

Who Is Srila Prabhupada

his Timeline

Months in his Life

Training his Disciples

Questions

Bhagavad-gita

Devotees of God

Devotional Service to God

Discipleship

Guru / Acharya

Essential Subjects

Nectar Drops

What's in Vanipedia now

Glorious Personalities

Yoga

Collaborate with us to invoke and fully manifest Srila Prabhupada's Vani-presence.
---
BG 18.45 (1972)
From Vanisource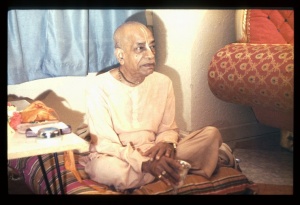 TEXT 45
स्वे स्वे कर्मण्यभिरतः संसिद्धिं लभते नरः ।
स्वकर्मनिरतः सिद्धिं यथा विन्दति तच्छृणु ॥४५॥
sve sve karmaṇy abhirataḥ
saṁsiddhiṁ labhate naraḥ
sva-karma-nirataḥ siddhiṁ
yathā vindati tac chṛṇu
SYNONYMS
sve—own; sve—own; karmaṇi—in work; abhirataḥ—following; saṁsiddhim—perfection; labhate—achieves; naraḥ—a man; svakarma—by his own duty; nirataḥ—engaged; siddhim—perfection; yathā—as; vindati—attains; tat—that; śṛṇu—listen.
TRANSLATION
By following his qualities of work, every man can become perfect. Now please hear from Me how this can be done.