Radharani

Krishna

Caitanya

God

God's Holy Names

Krishna Consciousness Movement

Who Is Srila Prabhupada

his Timeline

Months in his Life

Training his Disciples

Questions

Bhagavad-gita

Devotees of God

Devotional Service to God

Discipleship

Guru / Acharya

Essential Subjects

Nectar Drops

What's in Vanipedia now

Glorious Personalities

Yoga

Collaborate with us to invoke and fully manifest Srila Prabhupada's Vani-presence.
---
BG 11.18 (1972)
From Vanisource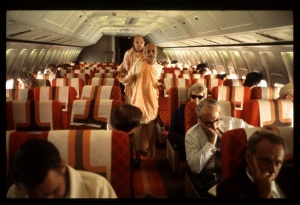 TEXT 18
त्वमक्षरं परमं वेदितव्यं
त्वमस्य विश्वस्य परं निधानम् ।
त्वमव्ययः शाश्वतधर्मगोप्ता
सनातनस्त्वं पुरुषो मतो मे ॥१८॥
tvam akṣaraṁ paramaṁ veditavyaṁ
tvam asya viśvasya paraṁ nidhānam
tvam avyayaḥ śāśvata-dharma-goptā
sanātanas tvaṁ puruṣo mato me
SYNONYMS
tvam—You; akṣaram—inexhaustible; paramam—supreme; veditavyam—to be understood; tvam—You; asya—of this; viśvasya—of the universe; param—supreme; nidhānam—basis; tvam—You are; avyayaḥ—inexhaustible; śāśvata-dharma-goptā—maintainer of the eternal religion; sanātanaḥ—eternal; tvam—You; puruṣaḥ—Supreme Personality; mataḥ me—is my opinion.
TRANSLATION
You are the supreme primal objective; You are the best in all the universes; You are inexhaustible, and You are the oldest; You are the maintainer of religion, the eternal Personality of Godhead.