771113 - Conversation B - Vrndavana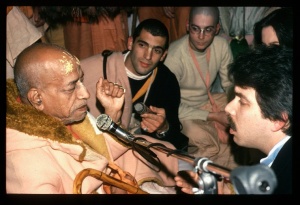 771113R2-VRNDAVAN - November 13, 1977 - 31:12 Minutes

Tamāla Kṛṣṇa: It's sort of encouraging to see you taking milk. That's encouraging. That's something which you always said if you could take, you would get stronger, so I'm encouraged by that. I think that a great deal of patience is ultimately required, you know. We have to expect that actual strength and muscles will take a little time to come. (aside:) Prabhupāda's being disturbed by gases . . . (indistinct)
Upendra: What's wrong?
Tamāla Kṛṣṇa: Prabhupāda's feeling a little gas.
Bhakti-caru: Gas malum hota hai thoda sa pet me. (He is experiencing some accumulation of gas in the stomach.)
Kavirāja: Pet me? Kam ho jayega . . . (In the stomach? It will reduce.)
Bhakti-caru: That will go away.
Kavirāja: . . . tatti nhi hone se ho rha. (. . . this is because of not passing stool.)
Bhakti-caru: Accha. (Okay.)
Kavirāja: Gas kuch nikalta nahi hai Maharaj. (Is some of the gas expelled, Mahārāja?)
Prabhupāda: Ha. (Yes.)
Kavirāja: Thik. (Fine.) (indistinct background conversation)
Bhakti-caru: Wo tel to sirf lagake . . . sirf laga nahi paye. Aur kuch, malish karne ko . . . (We could not apply that oil. Is there anything else to massage? . . .)
Kavirāja: Thoda-thoda. Usse tel turant hi dus pandrah minute me kaam ho jayega. (indistinct) Yaha se leke full body pe lagana. Malish kya kare? Haddi-haddi hai. Mans to hai hi nahi. (indistinct) (Use it in little quantities. Within 10 to 15 mins, it will have the effect . . . (indistinct) . . . starting from here, apply on the full body. What massage will you do anyway? It is just a bag of bones now. There is no flesh . . . (indistinct) . . .)
Prabhupāda: Hmm.
Bhakti-caru: Ki, Śrīla Prabhupāda?
Prabhupāda: They are taking urine?
Bhakti-caru: Ota . . . (indistinct) . . . peshab . . . (indistinct) . . . ekhon nicchen. (That is . . . (indistinct) . . . urine . . . (indistinct) . . . is being taken now.)
Kavirāja: Aj arak kam piye hai? (Did you take less medicine today?)
Bhakti-caru: Nahi, aj bahut piye hai. (No, he took a lot today.)
Kavirāja: To thik hai. Peshab . . . (Then it's okay. Urine . . .)
Upendra: Śrīla Prabhupāda, you didn't pass any urine the first time. Do you want to try again? We can cleanse you now?
Prabhupāda: Hmm. (break) Bon Mahārāja Dandavat. (indistinct)
Bon Mahārāja: Dandavat. Na, Prabhupader ashim kripa apnar upore. Apni ja mahat seva korechen, er kono tulanai nei ar. Mane Prabhupader aparishimit shakti apnader sathe. Biswamoy Mahaprabhur . . . (indistinct) . . . apni korechen. Amra shob to mahan gourabanito apnar kaje. (Obeisances. No, Prabhupāda has bestowed immense mercy upon you. The great service which you have done is incomparable. I mean, Prabhupāda's unlimited potency is with you all. You have preached the message of Mahāprabhu all over the globe. We are proud of your achievements.)
Prabhupāda: Ashirbad korun, jodi benche thaki . . . (Bless me, if I remain alive . . .)
Bon Mahārāja: Joto din apni benche thakben, toto din Mahaprabhur seva aro, Prabhupader mahima biswe aro prachar hobe. (As long as you are alive, Mahāprabhu and Prabhupāda's glories will be propagated more and more all over the world.)
Prabhupāda: Hmm.
Bon Mahārāja: Koshter bishoye mane durbal, tai na? (The weakness is your main cause of discomfort, right?)
Prabhupāda: Ar ki. (Yes, that's true.)
Bhakti-caru: Goto koyek bochor dhore shorirer upor eto atyachar korchen, je ekhon eke bare bhenge porechen. (Over the last few years he has overworked himself so much that his body has completely broken down.)
Bon Mahārāja: Boysh to hoyeche. (The age should also be considered.)
Bhakti-caru: Hmm, boysh to hoyeche. (Yes, the age should be considered.)
Prabhupāda: Ei ektu ektu kirtan shunchi ar pore achi. (I am just listening to some kirtana and lying here all day.)
Bon Mahārāja: Ei namer probhabei to apni eto boro sheba kaj korechen. Nameri kripa. Apnar kojon bhakto giyechilen, boroncho apnar mone jegeche Mahaprabhu je shob sthan giyechilen shei shob sthan jawar. Ami to oder bolechi uni manashei shorbotro jaben, shorire ki eto koshto shojjo hobe. Mahaprabhur joto sthan, dakshin dishei beshi. Ami oder bolechi Charitamriter theke shei shob sthan gono bole, Maharaj shunben. Moner bhitorei to shei sthan bhraman hoye jabe. (It is by the power of this holy name that you have performed such a great service. It is the mercy of the holy name only. Some of your devotees went on a tour of the places visited by Lord Caitanya and that created a desire within you to have darsana as well. I told your disciples that you may go on a mental pilgrimage but physically, you won't be able to take the exertion. Many of Mahāprabhu's pastime places are mostly in the South. So I told them to recite those pastimes to you from Caitanya-caritāmṛta and you will visit those places in your mind itself.)
Prabhupāda: Ami to tirtha sthane jayni. Mollar dour masjid, oi America. Ar recently Haridwar gechi. Hmm. (I have never gone on any pilgrimages. My condition is like that of the Muslim cleric who goes only as far as up to his mosque. Similarly, I went up to America and that's all. Recently, I went to Haridwar. Hmm.)
Bon Mahārāja: Kichu koshto bodh hoye naki? (Do you feel any discomfort?)
Prabhupāda: Shorir ta je bhabe paribartan hoyeche, ekta angul narte, pa narte assistant lagte hoy. Ektu koshtokar i hoyeche. (Bodily condition has changed in such a way that just to move a finger or move my leg, I need an assistant. That is a little troublesome.)
Bon Mahārāja: Shei jonno Kabirajir kache chikitsha korachilen na. Shei ti apnake effective hoye. Shei ageo, prothom bare te shei tel malish kore tore apnar shob thik hoyechilo. (For that you were taking some treatment from the Kaviraja, right? That is quite effective for you. Previously, it was this oil massage only that helped you recover.)
Prabhupāda: Tai to korchi kintu bishesh . . . (That's what I am doing but nothing tangible is . . .)
Bon Mahārāja: Ei boyshe dhorun shorire oshubidha ashbei. Kintu apnar mon to khub thik ache. Kotha bolte parchen thik. (At this age, the body is bound to give some trouble. But your mind is in sound condition. You can speak very coherently.)
Prabhupāda: Mon to kromosho smriti bibhrom hoyeche. (My mind is gradually becoming bewildered.)
Bon Mahārāja: Hoyni. (Not at all.)
Prabhupāda: Hoye ashche. (It will happen very soon.) (laughing)
Bon Mahārāja: Ekhono to apnar khub alert mind. (Your mind is still very alert.)
Prabhupāda: Morbar purbe smriti bibhrom hoy. (Before death, the mind gets bewildered.)
Bon Mahārāja: Shei ta ekdin amader shokoleri hobe. She ar . . . ek din jetei hobe. Shei jonno kichu noy. Apnar je ekhono mon royeche. Harinam shunchen, kirtan shorbokhon hocche. Ei je sankirtan ta . . . Vrindavan dham. Amar to oi akanksha, deha to chartei hobe ek din. To dhame chara tai hocche shorbottom. Bhagavan er lila bhumi. (That will happen to all of us one day. Everyone has to leave this body some day. That is not an issue. But you are still completely aware of everything. You are listening to harinam, kirtana is going on continuously. This sankirtana . . . Vṛndāvana dhama. It is my desire that since I have to leave my body one day, it is best to die in the holy dhama. The place where the Supreme Personality of Godhead performed his pastimes.)
Prabhupāda: Shei jonnei to ghure phire elam ekhane. (That's why I returned to this place.)
Bon Mahārāja: Amadero apnar kache oi prarthana. Je kodin Krishna rakhben, she kodin thakte hobe. Je din tini niye jaben, tar dhamei jate apnake niye nen, shetai shorbottom. Ar nahole to shob darshan hoyeiche. Ar je shob tirther kotha, Mahaprabur sthan manashe chinte kore. Vrindavaner upore to ar kono tirtha nei to. E to mahan Bhagavaner lila bhumi. Apnar gourab kotha shob jayga amra shuni. Shokolei apnar guna kirtan kore. Aparishimit sheba apni korechen. Apnar Toronto, Montreal center e amake ora niye giyechilen. Ager bare jokhon giyechilam. Ami oder cheleder bollam, bhai ami jabo kintu ami gelei hari katha bolbo. Ha nischoyi, amra shob byaboshtha korbo. Tarpor Montreal e ami ekjon bangali engineer er barite chilam. Ami oder bollam, apnar shishyader, je bhai amar ekhan kar khawa maha mushkil, ami khetei parbo na. Ora amay eto jotno korechilen, shob prasader byabostha, mathe niye giye, tarpor abar or barite giye pounche diye. Tarpor ami okhan theke Ottawa jabo, amar plane thik hoye geche. Ora du jon brahmachari eshe bole je amra motor e jacchi, apnake amra khali niye jabo. To ami bollam amar ticket to shob hoye geche. Or bollo, kichu noy, amra cancel kore dicchi. To ora khub jotno korechilo, brahmachari. (This is also our prayer for you. As long as Kṛṣṇa keeps you in this body, you have to stay. But when He takes you away, may He accept you back into His abode. That is the highest destination. Apart from that, you have visited all holy places. For the pastime places of Mahāprabhu, meditate on them in your mind. There is no place higher than Vṛndāvana. This is the great pastime place of the Lord. Everywhere we are hearing about your glorious achievements. Everyone is singing your glories because of the unparalleled services that you have rendered. They took me to your center in Toronto, Montreal when I went there last time. I had told them that if I visit your center then I must speak some hari-katha. They said that they would definitely make all arrangements. At that time, I was staying at the house of a Bengali engineer in Montreal. I told your disciples that it was impossible to take the food that my hosts will offer. Then they took great care of me, arranged for prasadam after taking me to their temple and also delivered prasadam to the house where I was staying. Next, I was planning to visit Ottawa and my flight ticket was already booked. Two of your brahmacaris came and told me that they were traveling to Ottawa in a motorcar. They offered to take me along with them. I told them that my ticket was already booked but they said that they would cancel it. They took tremendous care, your brahmacaris.)
Prabhupāda: Toronto notun church peye geche? (Have they acquired the new church in Toronto?)
Bon Mahārāja: Ha, oi church barita niyeche. Shekhane apnar mandir hobe. Ora amay bollen. Nahole emni chitrapat, e shob hoye geche. (Yes, they have acquired that church. Your temple will be constructed there. They informed me. Otherwise all the paintings are ready.)
Prabhupāda: Hoye geche. (Yes, they are ready.)
Bon Mahārāja: Khub boro, khub boro church. (It is very big. Very big church.)
Prabhupāda: Ekta ghor nei, bhangtei . . . (There is not a single room inside, breaking is . . .)
Bon Mahārāja: Oi bhitore remodel kore, mandire. Bigraha to pratishthit chilen okhane, apnar mandir . . . (Some remodeling will be needed inside to turn it into a temple. The Deities were installed there.)
Prabhupāda: Bigraha pratishtha hoyeche. (Yes, the Deities are installed.)
Bon Mahārāja: Bigraha ami dekhe eshechi. (indistinct) (I have seen the Deities . . . (indistinct))
Prabhupāda: Besh boro mandir. (It is a very big temple.)
Bon Mahārāja: Ar apnake amra ki bolbo. Apni Mahaprabhur bani puran korechen, apnar dara Mahaprabhu koriyechen. Prithibite shorbotro prachar hoibe naam, e apnar madhyamei bastuto hoyeche. Oneke geche, esheche, she onno byapar. (What else can we say about you! You have fulfilled the prediction of Mahāprabhu. It is Mahāprabhu who has fulfilled it through you. The prediction that the Holy Name will be sung in every town and village of the world, has manifested through you. Many have gone and returned, that is a different story.)
Prabhupāda: Dandabat Maharaj, ami ki korte pari. (Please accept my obeisances Mahārāja, what can I achieve?)
Bon Mahārāja: Nimitta-mātraṁ bhava savya-sācin. Apnakei to nimitta korechen Prabhupada. (Prabhupāda has made you an instrument.)
Prabhupāda: Apni shob shomoyi encourage korechen. (You have always encouraged me.)
Bon Mahārāja: Barabari apnar je . . . (indistinct) . . . prothom mone thake. Ami apnake tokhoni bolechilam je ingreji na janle to bideshe jawa jabe na, apni jaan America. Bhagavaner kripay . . . (indistinct) . . . kaj korechen shofol. (Throughout all these years your . . . (indistinct) . . . the first thing I remember. I had told you that without knowing English it is not possible to go abroad so you should go to America. By the Lord's mercy . . . (indistinct) . . . you have successfully done it.)
Prabhupāda: Ami jokhon boi ta likchilam, apni bolechilen . . . (indistinct) . . . je apnar ek ek khana boi, ek ek khana mondir. (When I was writing the books, you had said that each one of my books is like a temple.)
Bon Mahārāja: Apnar boi hocche apnar real contribution. Apni je eto granth korte perechen. Ar shei ta chirosthayi, chirodin thakbe. (Your books are your real contribution. It is remarkable that you have been able to write so many books. And these are everlasting, it will stay forever.)
Prabhupāda: Soviet desher certificate dekhao. (Show him the Soviet certificate.)
Bon Mahārāja: She apnar San Francisco te apnar Mayor du din public holiday diyechilo, shei shune ami maha ananda anubhab korechilam. Je ar keu korte pareni, apnar dwarai to hoyeche Rath Yatra. Eshob onek kal byapar, apnar dwarai hoyeche. (When I heard that the Mayor of San Francisco has declared two days of public holiday for Ratha Yatra, I felt overjoyed. No one else could do it but you managed to organize Ratha Yatra on foreign soil.)
Tamāla Kṛṣṇa: This is a certificate arrived from the Soviet Union.
Bon Mahārāja: It's in Russian language or in English?
Tamāla Kṛṣṇa: Well, some of it, I think, is in Russian. I have the translation. It says . . . the top wording here, this says that "Books in the service of peace and progress. A diploma for the Bhaktivedanta Book Trust, Bombay, given by the First Moscow International Book Fair Exhibitions and Fairs, General Directorate of International Book Exhibitions and Fairs, USSR."
Bon Mahārāja: Fine. Kemo apurbo korechen! Russia r lokrao manche. (Such a wonderful feat! Even people of Russia are appreciating it.)
Prabhupāda: Shob Soviet deshete boi niyeche. (All the Soviet countries have taken these books.)
Gopāla Kṛṣṇa: All Russian universities ordered Prabhupāda's books.
Bon Mahārāja: Prabhupada oi rastai dekhiye giyechilen. (That was the way shown by Prabhupāda.) Press platform. Dui apni korechen. (Both you have done.)
Prabhupāda: Ei Radha-Kund e je Prabhupader shonge dekha korte gechi Bombay theke, . . . (indistinct) . . . to uni ektu dukha korlen. "Amader dusho-araisho taka bhara dito, anande kete jeto. Je din theke . . . (indistinct) . . . ei patharer bari toiri holo, jhagda-jhati. Ke kon ghore thakbe?" (When I had gone from Bombay to Radha Kund to meet Prabhupāda . . . (indistinct) . . . so he was feeling a little sorry. "With a minimal rent of 200 to 250 rupees, we used to live in great joy. But since the day this marble palace was constructed, there has been quarreling and fighting. Who is going to stay in which room?")
Bon Mahārāja: Oi tai amader abhishampat holo. Ultadingi thakle adarsh chilo shob. (That turned out to be a curse for us. Staying in Ultadingi was ideal in every way.)
Prabhupāda: "To amar iccha hoy, ei pathar gulo khule kicho jodi boi print . . ." . . . (indistinct) . . . seriously nilam ar tarpori boi likhte arambho korlam. First Bhagavatam ar tar ingreji. Apni bollen je ek ekta boi korte, eksho taka. Bhalo mandir. (Prabhupāda continued, "I feel like taking out this marble and selling it to print some books." . . . (indistinct) . . . took it seriously and started writing books from that point of time. First was Bhāgavatam and its English translation. You told me that it would take 100 rupees to get each book ready. That's a nice temple.)
Bon Mahārāja: Ebong sthayi mandir. (And that too a permanent temple.)
Prabhupāda: Hmm. Ashirbad korun. (Please bless me.)
Bon Mahārāja: Ekhon jodin Prabhupada apnake rakhben, todin alochana hoye apnar ekhane. Ar ekdin . . . (Now, as long as Prabhupāda keeps you in this body, we can have such discussions here. Another day . . .)
Prabhupāda: Dasham skandha ta ingreji te hoye geche. (indistinct) . . . dasham skandha . . . (indistinct) . . . (The tenth canto has been translated to English . . . (indistinct) . . . tenth canto . . . (indistinct) . . .) two parts . . . (voice chokes)
Bon Mahārāja: Thak apni strain korben na. Charitamrita apnar pochish volume e hoyeche. Shei dekhiyeche. (That's okay. Don't strain yourself. Caitanya-caritāmṛta has been completed in 25 volumes. They showed me.) That's Bhāgavatam, Tenth Canto. That is up to which chapter?
Jayādvaita: Twelve chapters are finished. This is up to Chapter Twelve. And now thirteenth chapter is also completed.
Bon Mahārāja: In and out, both are superexcellent. Inside, in Mahārāja's translation, and outside, your publication, printing, makeup—everything superexcellent. That is first attraction, when you take the book in your hand you feel that is something very nicely done. I don't think in India we can have this type of printing and publication. You get them printed now in Los Angeles, no?
Devotee: Kingsport.
Jayādvaita: They're printed in Tennessee.
Bon Mahārāja: Tennessee.
Jayādvaita: The work is done in Los Angeles, then in Tennessee, and the pictures are printed separately from the Bhāgavatam. Then the pictures are sent to the publisher in pages.
Bon Mahārāja: Last time they told me in New York . . . your press was in New York, and they were shifting it to Los Angeles. About two hundred brahmacārīs were working there, and they told me.
Tamāla Kṛṣṇa: Now it's in Los Angeles.
Bon Mahārāja: Now it's in Los Angeles. Well, it is all Mahāprabhu's will, and Prabhupāda is our . . .
Prabhupāda: Amader Los Angeles er godown dekhechen? (Have you seen our go down in Los Angeles?)
Bon Mahārāja: Na ami shekhane jayni. (No, I haven't gone there.)
Prabhupāda: Howrah Station.
Bon Mahārāja: Haribol! (laughter)
Tamāla Kṛṣṇa: I have a picture of it, Śrīla Prabhupāda. I have a picture of that BBT godown.
Prabhupāda: Show him.
Devotee: It's about two blocks long and about one block high.
Bon Mahārāja: Everything is done in a very big way.
Jayādvaita: 'Cause Prabhupāda's a big . . . (indistinct) . . . and he needs everything big.
Prabhupāda: Oderke bolechi, ja . . . (indistinct) . . . (I have told them, whatever . . . (indistinct) . . .)
Bon Mahārāja: Apnar strain hole Maharaj bolben na. Apnar shorir to durbol. (Please don't speak Mahārāja if you feel strained. Your body is very weak.)
Tamāla Kṛṣṇa: Here's a picture of that book godown in Los Angeles.
Bon Mahārāja: What's the length of the building?
Tamāla Kṛṣṇa: What is the length of that building, Jayādvaita? (discussion among devotees) Twenty thousand square feet in area. Twenty thousand.
Bon Mahārāja: In area. Well, in your country, in USA, everything is very big. Nothing is done in a small way.
Tamāla Kṛṣṇa: This is the Los Angeles temple. These are the Deities, Śrī-Śrī-Rukmiṇī-Dvārakādhīśa.
Bon Mahārāja: In Los Angeles?
Tamāla Kṛṣṇa: In Los Angeles. Yes. Then we have a very nice doll exhibition there.
Bon Mahārāja: What is that exhibition?
Tamāla Kṛṣṇa: Doll, diorama. These are some of the exhibitions. This devotee here, Bharadvāja dāsa, he's the creator of this doll exhibition. This is our temple in New York now, this building.
Bon Mahārāja: You have purchased it? There was a talk of taking that twelve-story theological seminary.
Tamāla Kṛṣṇa: This is also thirteen stories, but it's a different building. It's in Manhattan.
Bon Mahārāja: Which street?
Tamāla Kṛṣṇa: Fifty-fifth Street. And this is our temple in London. We have actually three temples there now. This one is in Hertfordshire, called Bhaktivedanta Manor, and then we have one near the British Museum in Bury Place, which is that five-story building. And then we just purchased a restaurant and reading room just off of Oxford St. on Soho St. This is in France. It's a chateau which we have purchased, very nice, with a farm. Very beautiful place. And these are the Deities, Kṛṣṇa-Kāliya, in Fiji. This temple was just opened in Fiji. Kṛṣṇa-Kāliya.
Bon Mahārāja: Kāliya-damana.
Tamāla Kṛṣṇa: Ah, Kāliya-damana.
Bon Mahārāja: That is in Fiji. Tahole Maharaj apnake abar ei to Krishner iccha hole dekha hobe. (So Mahārāja, if Kṛṣṇa desires we will meet again.)
Prabhupāda: Prasada peye jan. (Please take prasadam.) (discussions between devotees) Ei khane ene dao. Choto ekta table bhitore ene dao, pidhi ta. (To Bon Maharaj) Apni . . . (indistinct) . . . pan. (Bring it here. Bring a small table, like that wooden board. (To Bon Mahārāja) Please . . . (indistinct) . . . have it.)
Bhakti-caru: Śrīla Prabhupāda? Bolchilam, prasad nite ekhane ektu oshubidhe hote pare, shomosto puri-turi ache toh. Shob thik moton hoye uthbe na. (I was thinking that it may be a little difficult to take prasadam here, all the puris and other items are there. It can't be properly served here.)
Prabhupāda: Accha, toh niye jao. (Okay, then take him there.)
Bon Mahārāja: Shunun, apni kore amake diye din, garitei diye din. Okhane amara bhakta . . . (indistinct) . . . amra shokolei pey ni. (Listen, just pack it and give it to me in the car itself. My followers are there . . . (indistinct) . . . we can all have it.)
Bhakti-caru: Oh, accha. (Okay.)
Bon Mahārāja: Apni shondhe aratir shomoye dorkar peye neben phone kore. (During evening arati, you can take it back with a phone call.)
Bhakti-caru: Oh, accha. (Fine.)
Bon Mahārāja: Mane, ami shonge niye jai prasad. Apnar jokhoni khobor deben, tokhoni ami ashbo. Majhe ek din eshechilam. Babaji tokhon eshe bollen je uni ekhon ghumocchen. Ami bollam tahole ekhon disturb korben na. Ara apni age, majhe ekbar khobor diyechilen ashrame, tokhon ami chilam na. Bombay chilam. Ar eshe khobor pelam. (pause) Tahole uthi Maharaj. (I will carry the prasadam with me. Whenever you inform me, I will come to meet you. I came here a few days ago. Babaji told me that you are asleep so I told not to disturb you. And you had called for me sometime back but I was not in the ashram. I was in Bombay. When I came back, I got the news. (pause) So, kindly give me your leave Mahārāja.)
Prabhupāda: Ha, dandavat. (Yes, obeisances.)
Bon Mahārāja: Dandavat. Tahole Maharaj, dandavat. Abar kokhono apnar mone pore, khobor dile ami shonge-shonge . . . ami ekhane ashi jai. Eshe jabo. (Obeisances Mahārāja. If you remember me again some day, just send a word and I will immediately come . . . I visit here regularly. I will definitely come.)
Shanta: Ami Shanta. Amar ektu apnar charan dhuli newar icche. (indistinct) . . . ektu charaner dhuli ni. (I am Shanta. It is my desire to take the dust from your feet . . . (indistinct) . . . let me take the dust from your feet.)
Prabhupāda: Ei okhan theke nen. Dada bhalo ache? Haa? (Okay, take it from there. How is your elder brother? Yes?)
Devotee: Ki bolchen prabhu? (Excuse me prabhu, what are you saying?)
Prabhupāda: Shanta baba ke bolchi. Dada bhalo ache? (I am speaking to Shanta. How is your elder brother?)
Shanta: Ha bhalo ache. (Yes, they are fine.)
Prabhupāda: Chele meyera kemon? (How are your kids?)
Shanta: Ha bhalo. (Yes, they are doing good.) (kīrtana)
Prabhupāda: Khawar moton dao. (Give sufficient prasadam.)
Lady: (indistinct Bengali) . . . ami okhan theke khobor ni apnar. (I get news about you from there.)
Prabhupāda: Ha ami jani. Bon Maharaj ke bhalo kore dao, shobar jonno. (Yes, I know. Give sufficient quantity for Bon Mahārāja and all his disciples.)
(indistinct discussion among devotees)
Svarūpa Dāmodara: Pray ponero jon. (Nearly fifteen people.) Prabhupada is asking how many are here.
Indian man: Devotees ko prasad de dete hai? (Shall we give prasadam to the devotees?)
Prabhupāda: . . . (indistinct)
Svarūpa Dāmodara: Prabhupāda is asking to give prasāda to all the devotees. (break) (end)