771107 - Conversation B - Vrndavana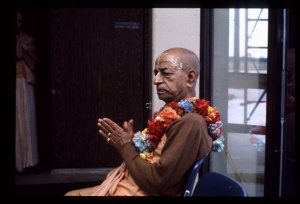 771107R2-VRNDAVAN - November 07, 1977 - 16:28 Minutes

Kavirāja: Thoda-thoda . . . thodi-thodi . . . rakhi hai. ye jo aaj khane ke dawai di hai na usse ruchi aur khulegi. Thoda-thoda lenge to kamzor nahi honge, sabse badi baat ye hai. (Little by little . . . little, little . . . is kept. The medicine I have given you today for increasing appetite, by that the taste buds will open up. If you eat a little you will not feel weak and this is the biggest concern.
Prabhupāda: . . . (indistinct Hindi)
Prabhupāda: Nadi dekhi hai? Kitna der chalega. (How long will it go on?)
Kaviraja: Kitna der, abhi to barso chalana hai. how long, it has to be kept going still for so many years. nadi me koi giravat nahi hai. Thoda sa ruchi de kar ke agar ann khane lag jaye na. Chawal ki iccha ho, chawal le lijiye ya gehoon ke daliya ki iccha ho. Garam pani se aankh thoda sa. (There is no drop in the pulse. If you develop a little taste for food and start taking rice. If you want rice then eat rice or if you want oats made of wheat. With warm water, clean your eyes.)
(background conversation)
Tamāla Kṛṣṇa: We do it about two times a day with a towel.
Kavirāja: Agar gulab jal hoga pani me dal do aur gulab jal aankh ke liye badiya rehata hai. (If you have rose water then put it in water and it is very good for the eyes.)
Tamāla Kṛṣṇa: Rose water? Water? (indistinct comments by Upendra)
Kavirāja: Ab parikrama me jaane ki iccha nahi hai kya swamiji. Aap to bade sahasi aadmi hain. (Don't you wish to go for the parikrama Swamiji? You are a very courageous person.)
Prabhupāda: Jaane ki iccha to hai. (Yes I have the desire to go.)
Kaviraja: Hamari iccha to hai. Wo sharirik shakti hai kyun yehi to baat hai. Aaj se humne 2 time chalo ki hai dawai takat ki ab 3 roj ke andar parikrama me chale jayenge. (I also have the desire. Physical strength is not the fact. From today I have started the medicine for strength twice a day. Within 3 days you will be able to go for parikrama.)
Tamāla Kṛṣṇa: You have to give Prabhupāda some strength to go on the parikramā.
Svarūpa Dāmodara: He said in three days.
Tamāla Kṛṣṇa: Three days. That's good.
Kavirāja: Aankh me paani aata hai inko. to aisa kijiye, koi cheez aankh me dalte hain kya? Gulab jal badhiya hai. gulab jal aur main abhi jaoonga aur thoda triphala la doonga. Triphala pani me dekar do ek roz subah aankh dho dijiye uske pani se. Apka to karya chalta hai isi avastha me bhi. andar hi andar chalta rehta hai. ab jaldi theek hoiye jo apko le jaye Māyāpur hum. Thoda sa aap sahara dijiye, hum to karte hi hain nimmita matram. aaj khane ke liye inki chawal ki iccha ho to chawal de dijiye. (He gets water in his eyes. So do like this, do you apply anything in the eye? Rose water is good. Rose water and now I will go and bring a little triphala. Put triphala in water, and for 1 to 2 days wash his eyes with the water. Your work goes on in this condition. It continues internally. Now you recover fast so that I can take you to Māyāpur, you need support a little bit. I am just an instrument and I do what is required. Today for lunch, if he desires rice give him rice.)
Bhakti-caru: Humlog aaj banate hain thoda chapati aur dal, patla karke dal aur chapati. (Today we are planning to make chapati and dal. We shall make the dal a little watery with chapati.)
Tamāla Kṛṣṇa: But whether Prabhupāda will eat some?
Bhakti-caru: Unhone khayenge to? (Will he eat?)
Kaviraja: Haan, kyu nahi khayenge? (Yes surely, why will he not eat?)
Tamāla Kṛṣṇa: Prabhupāda, you will try to eat the Gujarati roṭī and ḍāl?
Prabhupāda: Hmm. Iccha to hai. (I have the desire.)
Kaviraja: Iccha hai to zaroor khaiye. Tab wo hazam to ho jayega. Jiski iccha hai to wo zaroor hajm ho jayega. (If you have the desire then definitely eat and it will get digested. When one has a desire then it will surely digest.)
Bhakti-caru: Hazm ka to vaise koi takleef nahi hai. (There is no trouble in digestion.)
Kaviraja: Koi takleef nahi hai. Accha idhar dayi side me jo hai inko us samay dekha tha na to mul jaam tha. aaj mal to nahi hai pet ke andar. (No problem at all. Okay the left side. The last time I saw him, there was hardened excretion matter. Today there is no excretion matter in the stomach.)
Bhakti-caru: Aap bole the. (You had said.)
Kaviraja: Andar jaam ho jatah hai. Colon jo hota hai na, colon ke andar stool rehta hai. Aur usme us waqt jo jaam tha abhi 3-4 tatti lagegi na to pet clear hoga. Ab hazm hoga inko thoda-thoda. (It gets hardened inside. The colon, inside the colon there is stool, The hardening, which was there at that time, now with passing stool 3 to 4 times the stomach will get cleared. Now digestion will happen bit by bit.) Aaj aise karenge wo punarnava thoda sa mangva lijiye thoda sa salt bana dete hain . . . salt hota hai na allopath ka, waise hum saindha namak ka ek salt bana denge. thoda sa usse ek taste baith jata hai. Aur apan aisi cheez deten hain ki inki ruchi nahi hai. Namak ek aisi cheez hai thoda-thoda . . . (Today we shall plan like this, get that punarnava so we shall prepare salt . . . the salt which is used in allopathic medicine, like that we shall prepare salt from rock salt. With this, a little taste will settle on the tongue and we will give such food to eat. That he has lost taste. Salt is such a thing little by little . . .)
Bhakti-caru: Namak dene se bhi to ruchi nahi hota hai. (By giving salt only taste will not come back.)
Kaviraja: Nahi hoga ruchi to hoga hi andar se baki koi . . . lene se jara swad lagega jeebh ka, taste to waise khair inko parvah nahi hai is cheez ka waise le lete hain aur jaise wo liquid jo de rahe hain wo barabar denge. Ark jo hai teen time barabar denge, do time to medicine ke saath aur ek time . . . to kal subah se mai jo inke liye chutney bana ke le aaya hoon kushavali. brahman log kusa par baith kar karte hain na sandhyavandan wo kidney ka sabse best dawai hai. PPunarnava, trinapanchmool, kusa, inka sab ka ek chutney bana kar ke le aaye hain jo kal se chalo karenge. Aaj dawai maine badal diya hai. Wo dono prescription aap rakh lijiye. Pehle ka aur aaj ka. Aur dawai maine lifafe me bhej diya hai ye sab, dekh liya hai na aapne. (No, taste will develop from inside other than this anything . . . he takes he will feel tasty. But he is not much bothered about the taste. We shall take this and the liquid which you are giving that we shall continue. the ark we shall give thrice a day, twice with the medicine and once . . . so from tomorrow morning the kushavali chutney that I have prepared and brought, the kusa grass on which the brahmanas sit and perform their austerities, that is the best medicine for the kidney. Punarnava, trinapanchmool, kusa. I ground all these and prepared chutney. I have brought it and we shall start it tomorrow. Today I changed the medicine. You keep both the prescriptions, the former one and today's. And the medicine I have sent in the envelope, you have seen all this, is it not?)
Bhakti-caru: Haan, ek dawai diya hai aur 10 baje . . . (Yes, one medicine I have given and at 10 o'clock . . .)
Kaviraja: Nahi ab sab dawai doosri bheji hai. 10 baje de diya? Abhi to swamiji apki wo shithi hai ki ekadush skand me uddhavji ko krishna kehte hain ki (verse). Mane jo vishnu bhagvan krishna bhagvan me parayan ho jate hain na wo 'samruddha kamo hino va' chahe to puri tarah se unke ananyashrit ho ya shuru me hi bhagavan ke aashrit chahe, dono hi jo manushya hain narayan paro . . . wo khane se badhta nahi hai aur nahi khane se ghatta nahi hai. Bole ye baat kaise. Bole samudra ke andar jo nadiyan jayengi to usme uphan nahi aayega aur nahi jaenge to samudra me kami ek inch badhti nahi hai. To wohi sthiti bana rakhi hai aapne abhi to. Jo kai maas se program aisa hi chal raha hai. 3-4 maans me kabhi le lete hain, kabhi khate hain. Par ye panch-bhautik sharir hai na isko kuch na kuch thoda-thoda khana padega. Phir bhi char mahine se jo sthiti mano chal rahi hai, uske upar bhi heart, colon ye sab kaam kar rahe hai, kisi tarah ka upadrav nahi hai. To ye bhagvat wala slok mere ko aaj yaad aa gaya, swamiji to us stithi me hain abhi. Kha lete hain to theek hai aur nahi khate hain to theek hai, par thoda-thoda lena chahiye. (Not now, all the medicines are different that I have sent. Did you give him at 10 am? Now Swamiji, your condition is such that in 10th canto Kṛṣṇa tells Uddhava (verse). That is Visnu, He comes as Kṛṣṇa, that is "Samruddha kamo hino va." If you want, you can completely surrender unto the Lord or in the beginning only you desire the shelter of God, both the living entities are "Narayana paro" . . . that does not increase by eating and by not eating also it does not decrease. How to say this. Like in the ocean all the rivers enter but it will not cause any ripples and if the rivers doesn't enter, then also the ocean water will not reduce by even one inch. So the same condition you have made now. Since months ago, this program has been going on, like this. He takes sometimes 3 to 4 months, he eats sometimes but this material body made of five elements must eat something at least to keep it alive. Even then the condition which has been there for 4 months, in spite of this, the heart and colon, all organs are working fine, there has been no problem. So this verse from Bhāgavatam, I remembered it today. So you are in this condition now. If he eats it is okay, or if he does not eat it is also okay, but you must eat little.) Hamare vaidik shastra se bolta hoon adhyatma vishay me nahi. Abhi hiccup vagera to nahi hai na abhi, khansi aati hai? (I speak from the vedic scriptures point of view, not on spiritual topics. Now are you not getting hiccups, do you have a cough?)
Prabhupāda: Nahi, kabhi-kabhi. (No, sometimes.)
Kaviraja: Us roz jo apko pakhana hua to pet me kuch gudgudahat hua tha ki nahi? (That day when you passed motion, did you find some disturbance in the stomach or not?)
Prabhupāda: . . . (indistinct Hindi)
Kaviraja: Achha, tatti hone se ji kuch tha ya weakness aai? Weakness aai? (Okay when you had motion then you felt something, or did you feel weakness?)
Prabhupāda: Nahi . . . aaj bhi hua tha. (No . . . today also I had.)
Kaviraja: Tatti, ek tho? Ek tatti to hone theek hai. Par itna to apko diet jaati nahi hai, bus liquid jati hai phir bhi mul jo hai wo to bun karke jaise swast aadmi ko aana chahiye usi type ka aa raha hai. Aate hain theek kaam kar rahe hain . . . kavi kalidasa. (Motion, once? Going for motion once is okay. But you are not taking a proper diet, only liquid is going even then the excreta which is formed is like that of a healthy person. I think the digestive system is working properly . . . Kavi Kalidasa.)
Bhakti-caru: Srila Prabhupāda, Eta bedanar ros enechilam. khaben ektu? (I brought pomegranate juice for you. Would you like to drink a little?)
Tamāla Kṛṣṇa: Gujarati rotis?
Kaviraja: Aap kuch khana chahe to banayenge aapke liye. (If you desire to eat something then I will make it for you.)
Prabhupāda: . . . (indistinct Hindi)
Kaviraja: Jo meri patni hai wo sab tarah ka khana banati hai, gujrati khana, moong ki dal, arhar ki dal, chawal, khichadi, jo kuch khana chahe aap. Sabzi-puri banati hai naram, sab naram-naram sab khana baneygi apke liye. Jo bhi man chahe kheer ya aachar chahiye, chutney, jo khana pakwan sab banati hai. (My wife prepares all kinds of dishes, Gujarati dishes, green gram, yellow lentil, rice, khichadi—whatever you want to eat. She prepares soft puris and curries, she will prepare all soft preparations for you. Whatever you desire—desserts or if you want pickles, chutney, she prepares all these.)
Prabhupāda: Banao, khayenge make. (Prepare and I will eat.)
Kaviraja: Accha, hum banayenge aap ke liye. Ab jab apko bhook lagega, kehna, main apko bana doonga. Aur apko jo man hua. (Okay I will prepare for you. Now when you feel hungry tell me. I shall make it for you. And whatever you wish to eat.)
Prabhupāda: Pakodi, savoury, pakodi. (Savoury pakoda.)
Kaviraja: Aap khana chahte hain. (You want to eat?)
Prabhupāda: Malphua banana janti hai? (Does she know how to prepare malpua?)
Kaviraja: Malpua janti hai banana. Bahut accha naram-naram malphua banayegi. (Yes she knows how to make malphua, she will make them really soft.)
Tamāla Kṛṣṇa: You want to try some malphua later on tonight?
Kaviraja: Aaj raat ke liye? (For tonight?)
Prabhupāda: Batayenge. (I will let you know.)
Kaviraja: Accha, aap batayenge to hum banayege apke liye. (Okay, when you let me know I shall prepare for you.)
Bhakti-caru: Prabhupāda will let us know
Kaviraja: Agar apko teekha khana ho to teekha bhi banayenge. to aaj jo khana hai wo pheeka banai thi kyunki janti nahi thi ki aap teekha lenge ya pheeka lenge. (If you want to eat something spicy, then she will make spicy dishes also. So today's food, she made a little bland because she did not know whether you would take spicy or bland.)
Prabhupāda: Nahi ye theek hai. (This is alright.)
Kaviraja: Ye theek hai? Accha to itna hi rakhenge. (Is this alright? Okay then we shall keep it this way.)
Prabhupāda: . . . (indistinct Hindi)
Kaviraja: Ji haan, malphua aur ye banate hain hum log. Aap srikhand khate hain? (Yes, we make malphua and all other dishes. Do you eat shrikhand?)
Prabhupāda: Srikhand kya? (What is Srikhand?)
Kaviraja: Srikhand jo dahi ka banta hai aur usme chini, elaichi milake. (Srikhand is that dish which is made out of curd and sugar and cardamom is added to it.)
Tamāla Kṛṣṇa: Śrīkand. That's very good for you, Śrīla Prabhupāda, śrīkand.
Kaviraja: Yogurt ka banate hai. (We make it from yogurt.)
Prabhupāda: Oh srikhand.
Kaviraja: Hum shrikhand kehte hain. (We call it shrikhand.)
Tamāla Kṛṣṇa: That's a good preparation for you, Śrīla Prabhupāda, very nutritious.
Prabhupāda: Unka . . . to banao. (. . . then make it.)
Kaviraja: Accha ji hum banayenge. Apko sab khana thoda-thoda roz khana chahiye. khane se tabiyat acchi ho jayegi jaldi. Aur kabhi bhi man kare raat ko din me koi bhi time hum banayeng aap ke liye. (Okay we will make it. You have to eat all the dishes little by little everyday. By eating your health will improve fast. And whenever you feel like eating something whether at night or day, anytime, we shall prepare for you.)
Prabhupāda: Shuddh sharir seva karne ke liye tayyar . . . (A pure body is ready for rendering service . . .)
Kaviraja: Mera seva karne ka mauka. Accha hai nahi to hum to apke dhool ke barabar bhi nahi hain chune ke. (My chance to serve you. It is good, otherwise we are not qualified to even touch the dust of your feet.)
Prabhupāda: So, where is Bharadvāja?
Tamāla Kṛṣṇa: Bharadvāja is here, Śrīla Prabhupāda.
Prabhupāda: So you can sing.
Tamāla Kṛṣṇa: Jaya Śrīla Prabhupāda.
Prabhupāda: Softly.
Bharadvāja: Softly. (break) (end)