771102 - Conversation D - Vrndavana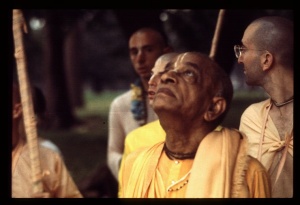 771102R4-VRNDAVAN - November 02, 1977 - 11:16 Minutes

Prabhupāda: Jaya. Abhi aap thik hai. (Jaya. Are you doing fine now?)
Jaidayal Dalmia: Apka sarir bohot kamzor ho gaya. (Your body has become too weak.)
Prabhupāda: Bhagvan ka ichcha. Baithiye. Kya conference me kya huya? (Whatever is the will of the Lord. Please take your seat. What happened in the conference?)
Jaidayal Dalmia: Abhi Gītā conference thi na Barda walo ki. (There was a Gītā conference organized by the people of Barda.)
Prabhupāda: Ha. (Yes.)
Jaidayal Dalmia: Usike liye aya tha. (I came for that only.)
Prabhupāda: Haan, to kya pass huya hain? (Yes, so what was the verdict?)
Jaidayal Dalmia: Pass to yahi huya hain ki sab koi mil karke, jitne bhi Gītā ki prachar karne wale hai, sab ek sath mil karke, jitne bhi usike Gītā ka prachar kare, aur sab ka ek se das reconciliation ho . . . (The verdict was that everyone should come together, all the preachers of the Gītā, everybody coming together, whatever way possible preach the message of the Gītā and there should be some reconciliation among all such people . . .)
Prabhupāda: Wo hota kaha hai. Wo hota kaha hai? (It doesn't happen like that. Does it?)
Jaidayal Dalmia: Dekhiye jo thora bahut jo kuch hoga. (Please see if something can be done about this, at least a little bit.)
Prabhupāda: Baithiye. Itna prachar karne me, sara dunia me isko chahte hai. Abhi . . . (Please take your seat. To preach like that, actually people all over the world want this. Now . . .) There is good demand all over the world. Ortho sab . . . (indistinct) . . . karke (They all make the meaning . . . (indistinct) . . .) "Kṛṣṇa is not person, Kṛṣṇa is consciousness." Ye sab karke keya labh? (What benefit is there by doing all these?) Kṛṣṇa personally speaking, and "He is consciousness." He says, yadā yadā hi dharmasya glānir bhavati bhārata (BG 4.7): "I come down." Ye log sab mante hi nahi. Keya prachar kare? . . . (indistinct) . . . (And these people, they do not accept. What to preach in such a scenario? . . . (indistinct) . . .) Māyāvādī. Caitanya Mahāprabhu has condemned, māyāvādi-bhāṣya śunile haya sarva-nāśa (CC Madhya 6.169). Caitanya-caritāmṛta me hai. Wo Mayavadi bhasya karenge. Keya kam hai. (It is there in Caitanya-caritāmṛta. They will interpret it in Mayavadi ways. What is the business with them.) Yogaḥ proktaḥ purātanaḥ (BG 4.3). Kṛṣṇa said that, "I am speaking to you the old yoga system." Ye log sab naya naya, apna apna interpretation . . . kaise lagta hai. (These people make new, new—their own interpretation . . . how does it feel?)
Jaidayal Dalmia: . . . (indistinct Hindi)
Prabhupāda: Hmm . . . (indistinct) . . . (Yes . . . (indistinct) . . .)
Jaidayal Dalmia: Hmm.
Prabhupāda: Wo bol raha tha . . . (indistinct) . . . (He was saying . . . (indistinct) . . .) Not my interpretation . . . (indistinct) . . . (break) Kṛṣṇa is a person. Hmm? Where is that verse in the Tenth Canto?
Tamāla Kṛṣṇa: In the Bhagavad-gītā?
Prabhupāda: Paraṁ brahma paraṁ dhāma pavitraṁ paramaṁ bhavān (BG 10.12).
Jayādvaita: Tenth Chapter.
Tamāla Kṛṣṇa:
paraṁ brahma paraṁ dhāma
pavitraṁ paramaṁ bhavān
puruṣaṁ śāśvataṁ divyam
ādi-devam ajaṁ vibhum
(BG 10.12)
Prabhupāda: Puruṣaṁ śāśvatam. Govindam ādi-puruṣam. (break) This is understanding of Bhagavad-gītā. But they'll not do that. What can be done? They cannot preach Bhagavad-gītā. Sarvam etad ṛtaṁ manye (BG 10.14). Go to the next line.
Tamāla Kṛṣṇa: Yan māṁ vadasi keśava, na hi te bhagavan vyaktiṁ vidur devā na dānavāḥ.
Prabhupāda: Hah . . . (indistinct) . . . bhi nahi jante, bol dalenge. (Hah . . . (indistinct) . . . that they don't know, still they will speak.) "I have come personally." Yadā yadā hi dharmasya (BG 4.7). Ye Bhagavad-gītā hai. . . . (indistinct) . . . isiliye kuch hua nahi. Aur thoda bahut jaise ka taise, as it is. Humne present kiya hai sara dunia me. Asli chiz hoga Gītā to uska demand hoga. Aur nakli dalda, wo do char. Delhi me ek jaga ek dukan hai, asli ghi ka bechta hai. Sab samay, sab admi ka bhir rehta hai. Aur dam bhi khubia . . . (indistinct) . . . Bhagavad-gītā as it is, dene se, tab hi kam hoga. Aab koi kahega imagination. Koi kehga ye hai, wo hai. Usme keya labh? (This is Bhagavad-gītā . . . (indistinct) . . . for that reason nothing significant happened. And somehow when the message is given as it was spoken, as it is. I have presented it all over the world. If the message is genuine then it will be in demand. And adulterated clarified butter, that gets sold only a few pieces. There is a shop in Delhi, they sell products made of genuine clarified butter. The shop always remains crowded with customers. The price is also good . . . (indistinct) . . . only by giving Bhagavad-gītā As It Is, will there be some effect. Now somebody will interpret as per their imagination. Somebody will say like this, somebody will say like that. What benefit will be there by this?) Simply a waste of time. Śrama eva hi kevalam (SB 1.2.8). Vāsudeve bhagavati bhakti-yogaḥ prayojitaḥ, janayaty āśu vairāgyam (SB 1.2.7). Janayaty āśu vairāgyam. Ye sastra bhasa nichor ka hai. (These are the essence of the scriptures.) Yaḥ śāstra-vidhim utsṛjya vartate kāma-kārataḥ, na siddhiṁ sāvāpnoti (BG 16.23). Jo sastra bidhi chor dete hai, usko kabhi siddhhi nahi milegi. (Who abandons the scriptural regulations, he will never achieve perfection.) Śrama eva hi kevalam. Kebal parisram. Ye sab baat hai. Ye bareme bolna hai, wo bareme bolna hai, wo bolna hai. Ab wo sab . . . (Only labor. These are the issues. There is a need to speak about this, need to speak about that, or about those. All these are . . .)
Jaidayal Dalmia: Aur parisram mat kijiye guruji hamara. Weakness hua thoda. (Guruji please don't take much stress now. You have become very weak.)
Prabhupāda: Nahi, aap achha anubhabi hai. Thoda dhyan dijiye, to hum log ke liye thoda sahai hoga. Ehi bat hai. Aap ka samarth bhi hai, aur ichha bhi hai. Aap bhakt ho gaye , yehi hamara prayas hai. (No, you are a sensitive person. If you please pay little attention, then it will be helpful for us. This is what I want to say. You are capable and you have the desire also. My effort is that you may become a devotee.) There is good demand all over the world. Aab intejam kiya jaye, bheja jaye. Wo bhi lega . . . (indistinct) . . . baap dada bhi kabhi Krisna ka naam bhi nahi suna tha. Ea sab American. Ladies bolte hai aap log keya American hai keya? Ascharjjo ho jate hai. Inhone Bhagwan ke liye, Krsna ke liye. Isko . . . (Let the arrangement be made, let the books be sent all over. They will also take . . . (indistinct) . . . their forefathers never heard the name of Kṛṣṇa. All these Americans. The ladies asks are you from America? They become amazed. For God, Kṛṣṇa, they have . . .) Nobody can turn them now. Jaya. Thank you very much.
Bhakti-caru: Śrīla Prabhupāda, ekhon ekta osudh di? Etai sesh osudh ajker. (Śrīla Prabhupāda, should I give you medicine now? This is the last medicine for today.) (end)