770503 - Letter to Prabhakar Mishra written from Bombay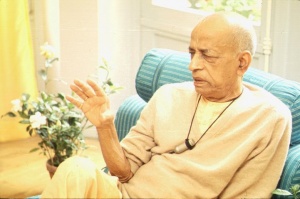 May 03, 1977

Sri Prabhakar Mishra,
F-91, Kirtinagar,
New Delhi-15
Hare Krsna Land
Juhu Road
Juhu, Bombay 400 054

My dear Prabhakar,
Please accept my blessings. I understand from Gopal Krsna that you met him and you have offered your obeisances which I gladly accept.
You have proposed to live in Vrndavana, so we have got enough place to provide you with accommodations. Now so long you could not do any tangible service. I propose that you can do something very tangible for us. In the Fifth Canto of the Srimad-Bhagavatam, there is a description of the planetary system. You are a learned scholar in Sanskrit, and also you have got knowledge in astronomy. I think if you tried, you can make a diagram of the whole planetary system. If you can do that, we want to make one gigantic planetarium. I shall be glad to hear from you by return post at the above address, or you can give me information of anyone else who can do it properly.
Hoping this meets you well.
Your ever well-wisher,
A.C. Bhaktivedanta Swami
ACBS/tkg