770503 - Letter to Gurukrpa written from Bombay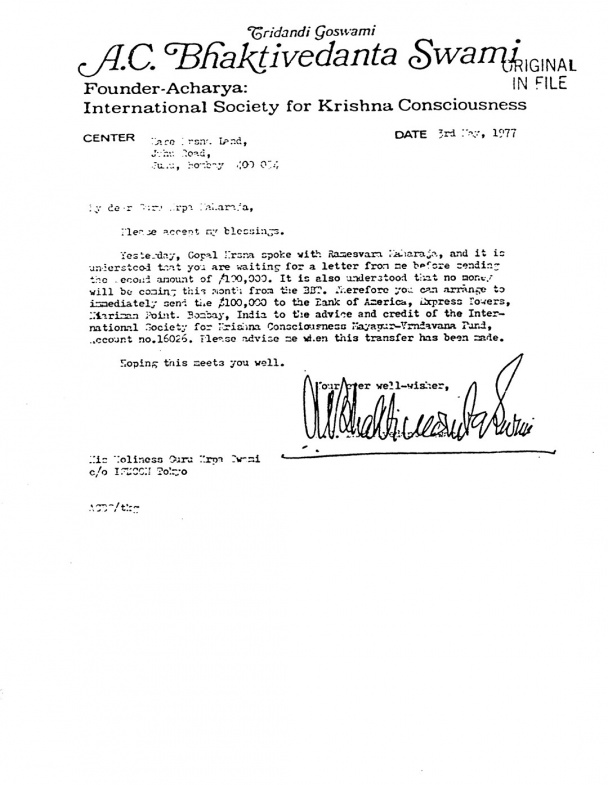 Tridandi Goswami
A.C. Bhaktivedanta Swami
Founder - Acharya:
International Society for Krishna Consciousness
DATE 3rd May, 1977
CENTER   Hare Krsna Land,
Juhu Road,
Juhu, Bombay   400 054

My dear Guru Krpa Maharaja,
Please accept my blessings.
Yesterday, Gopal Krsna spoke with Ramesvara Maharaja, and it is understood that you are waiting for a letter from me before sending the second amount of $100,000. It is also understood that no money will be coming this month from the BBT. Therefore you can arrange to immediately send the $100,000 to the Bank of America, Express Towers, Nariman Point, Bombay, India to the advice and credit of the International Society for Krishna Consciousness Mayapur-Vrndavana Fund, Account no.16026. Please advise me when this transfer has been made.
Hoping this meets you well.

Your ever well-wisher,



A.C. Bhaktivedanta Swami
His Holiness Guru Krpa Swami
c/o ISKCON Tokyo

ACBS/tkg