770428 - Letter to Kuladri written from Bombay
From Vanisource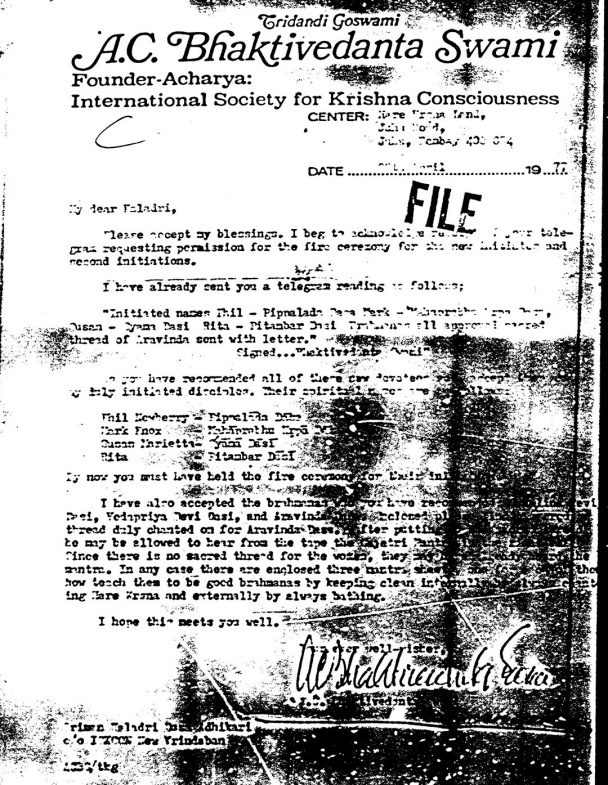 Tridandi Goswami
A.C. Bhaktivedanta Swami
Founder-Acharya:
International Society for Krishna Consciousness
CENTER: Hare Krsna Land,
Juhu Road,
Juhu, Bombay 400 054
DATE .....28th April...............19..77

My dear Kuladri,
Please accept my blessings. I beg to acknowledge receipt of your telegram requesting permission for the fire ceremony for the new initiates and second initiations.
I have already sent you a telegram reading as follows:
"Initiated names Phil - Pippalada Dasa, Mark - Mahaprabhu Krpa Dasa, Susan - Syama Dasi, Rita - Pitambar Dasi, Brahmans all approved sacred thread of Aravinda sent with letter."
Signed...Bhaktivedanta Swami
As you have recommended all of these new devotees so I accept them as my duly initiated disciples. Their spiritual names are as follows:
Phil Newberry - Pippalada Dasa
Mark Knox       - Mahaprabhu Krpa Dasa
Susan Marietta- Syama Dasi
Rita               - Pitambar Dasi
By now you must have held the fire ceremony for their initiation.
I have also accepted the brahmanas who you have recommended: Sukalina Devi Dasi, Vedapriya Devi Dasi, and Aravinda Dasa. Enclosed please find a sacred thread duly chanted on for Aravinda Dasa. After putting on the sacred thread he may be allowed to hear from the tape the Gayatri Mantra in the right ear. Since there is no sacred thread for the women, they may have already heard the mantra. In any case there are enclosed three mantra sheets, one for each of them. Now teach them to be good brahmanas by keeping clean internally by always chanting Hare Krsna and externally by always bathing.
I hope this meets you well.
Your ever well-wisher,



A.C. Bhaktivedanta Swami

Sriman Kuladri das Adhikari
c/o ISKCON New Vrindaban
ACBS/tkg