770325 - Letter to Aksayananda written from Bombay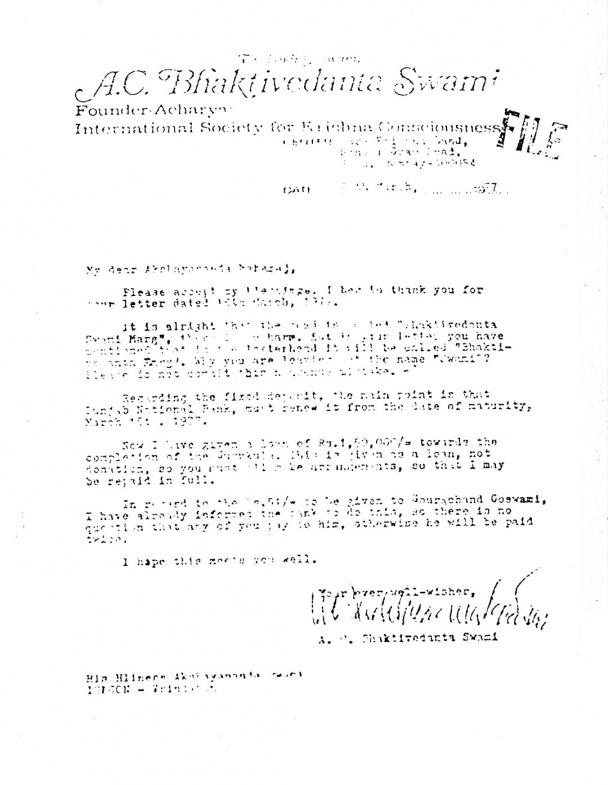 Tridandi Goswami
A.C.Bhaktivedanta Swami
Founder-Acharya:
International Society for Krishna Conciousness
CENTER Hare Krishna Land,
Gandhi Gram Road,
Juhu, Bombay 400054
DATE 25th March, .........1977...

My Dear Akshayananda Maharaj,
Please accept my blessings. I beg to thank you for your letter dated 18th March, 1977.
It is alright that the road is called "Bhaktivedanta Swami Marg", there is no harm. But in your letter you have mentioned that in the letterhead it will be called "Bhaktivedanta Marg". Why you are leaving out the name "Swami"? Please do not commit this nonsense mistake.
Regarding the fixed deposit, the main point is that Punjab National Bank, must renew it from the date of maturity, March 15th, 1977.
Now I have given a loan of Rs. 1,50,000/- towards the completion of the Gurukula. This is given as a loan, not donation, so you must all make arrangements, so that I may be repaid in full.
In regard to the Rs. 51/- to be given to Gourachand Goswami, I have already informed the bank to do this, so there is no question that any of you pay to him, otherwise he will be paid twice.
I hope this meets you well.

Your ever well-wisher,



A.C. Bhaktivedanta Swami,

His Holiness Akshayananda Swami
ISKCON - Vrindaban