770320 - Letter to Manager of Punjab National Bank written from Mayapur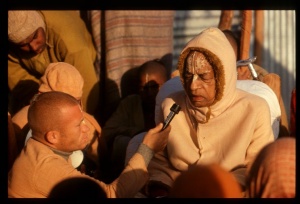 20th March, 1977
Sri Mayapur Chandradoya Mandir,
P.O. Sreedham Mayapur,
Dist. Nadia, West Bengal
To: The Manager
Punjab National Bank
Krishna Balaram Temple,
Vrindaban, U.P.
Re: My savings A/c #1 in the name of A.C. Bhaktivedanta Swami.
Dear Sir,
In regard to the above mentioned account held with your bank you are hereby requested to transfer the amount of Rs. 75,000/= (Rupees Seventy-five Thousand only) to the account in the name of International Society for Krishna Consciousness (Gurukula Construction) Account #4, held also with your bank, and advise.
Thanking you,
Yours faithfully,
A.C. Bhaktivedanta Swami
c.c. President
Krishna Balaram Mandir
Vrindaban
ACBS/tkg
BY HAND DELIVERY