770228 - Letter to The Manager written from Mayapur
From Vanisource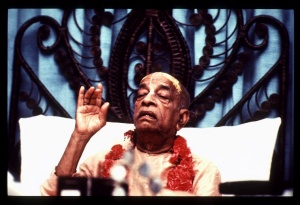 February 28, 1977

Sri Mayapur Chandradoya Mandir Guest House, and Sri Krishna Balaram Mandir Guest House (Vrindaban)
Sri Mayapur Chandradoya Mandir
P.O. Sreedham Mayapur,
Dist. Nadia, West Bengal.

Please give Sri Brahma Gopal Dutta and his family free accommodation in a private room in our guest house whenever he comes as well as Prasadam. If he wishes to stay beyond three (3) days, he will pay the normal guest rates. Mr. Dutta is from Katwa. Alone he can stay as long as he likes.
A.C. Bhaktivedanta Swami
ACBS/tkg