770221 - Letter to Rajendra Sahai written from Mayapur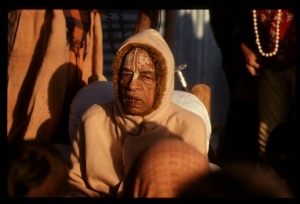 February 21, 1977

Shri Rajendra Sahai
D.G.C. (R.)
Fatehpur, U.P.
Sree Dham Mayapur
Dist. Nadia, W. Bengal

Dear Rajendra Sahai,
Please accept my blessings. I have received your letter of February 2, and heard the contents. I am glad that you are thinking how the Beni Madhava Temple may be properly utilized by our Krishna Consciousness Movement, and I am hopeful of discussion with yourself and the Mahant on this subject. I am sorry you are indisposed and cannot come to our Gour Purnima festival in Mayapur. However, I am scheduling a visit to Vrindaban, approximately to arrive the 16th of Feburary or thereabouts. Then when I am there you can arrange, if possible, to meet with me.
Your ever well-wisher,
A.C. Bhaktivedanta Swami
ACBS/sdg