770213 - Letter to Bala Krsna written from Mayapur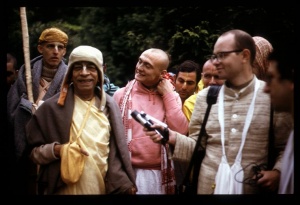 February 13, 1977

ISKCON
400 18th Avenue East,
Seattle, 98102 Washington
Sree Dham Mayapur
Dist. Nadia, W. Bengal, INDIA

Dear Bala Krsna das,
Please accept my blessings. I have received your January letter and examined the contents. The GBC supervision of Seattle temple will be decided at the GBC meeting in Mayapur.
Upon your recommendation I have accepted the following devotees for first initiation.
Stephen Peterson-Stavyadeva-dasa
Stephanie Sherriett--Stritama-dasi
Alice Trachsell-Anuttama-dasi
Caroline De RooyKarunaksi-dasi
Kim De Rooy--Kilimba-dasi
Tammy De Rooy-Tamra-dasi
Leona te HennepeLingini-dasi
Susan Stein-Surangi-dasi
Hold a fire yajna and get them properly initiated. I have also accepted Parat Para devi, Gopanandini devi and Veda Vati devi for second initiation and the gayatri mantra is enclosed. Have them hear me speaking the mantra on recording, in the right ear.
Please continue your vigorous book distribution and see all the devotees carefully follow all the rules and regulations.
Your ever well-wisher,
A.C. Bhaktivedanta Swami
ACBS/sdg