770208 - Letter to Rupanuga written from Mayapur
From Vanisource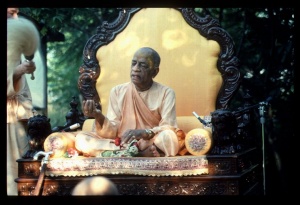 February 08, 1977

Sriman Rupanuga das Adhikary
ISKCON
10310 Oaklyn Road,
Potomac, Maryland 20854
P.O. Sree Dham Mayapur
Dist. Nadia, W. Bengal, India

Dear Rupanuga,
Please accept my blessings. I have received your monthly G.B.C. report dated January 24, and examined the contents.
Regarding the one thousand dollar donation you were formally sending, other GBCs have been sending donations to the Mayapur-Vrindaban fund, or with the sankirtan collections to the BBT. You can send a donation to a new account I am just opening for construction of a temple at Panihati, an important place in the pastimes of Lord Caitanya. The account is with the Central Bank of India, "ISKCON Panihati Gauranga Mandir" account, Camac St. branch, Calcutta. The branch will open our account in a day or two and I will send you the account number for sending a direct deposit.
It is good news that our important center in Philadelphia may be situated in more prestigious quarters. Yes, the BBT can arrange the loan of $45,000 as you and the others arrange.
Your emphasis to fight the deprogrammers by a program of education of parents is very good. You can send favorable letters by parents to other parents. Regarding your statement that our centers are not coordinating their efforts for education of parents, please do the needful at the GBC meeting. As for the devotee who is missing from Berkeley, immediately report to the police that we are suspecting the deprogrammers and they must act. They must take the case.
If your new president Carter is actually a God-conscious man then he will be able to enact his God consciousness in political action. But there is a Bengali saying I have many times repeated, that if one shows devotional spirit too much it is a sign of a thief.
Hoping this finds you in good health.
Your ever well-wisher,
A.C. Bhaktivedanta Swami
ACBS/sdg