770208 - Letter to Bali Mardan written from Mayapur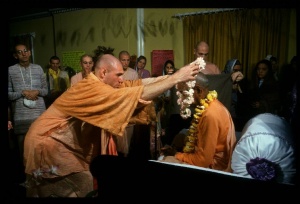 February 08, 1977

ISKCON, P.O. 170 Box, Alexandria, N.S.W.
P.O. Sree Dham Mayapur
Dist Nadia, West Bengal, India

Dear Bali Mardan,
Please accept my blessings. I have received your letter of January 19, and examined the contents.
In your letter you report you are considering the purchase of two separate real estates, a temple in the city costing $145,000 and an 800 acre farm costing $80,000. Prior to receipt of this letter, however, I received a telegram from you stating that you closed contracts on both of the lands. You write requesting the BBT for a loan of $125,000 (Australian dollars) but apparently you have already made the purchase. If you have already made the purchase, then of course it has to be purchased, and loans arranged. You can present the matter more fully to the GBC when you arrive for the Mayapur festival.
It is disturbing news that the San Francisco president has secretly persuaded devotees to leave Australia, and that they have not been returned. I have requested my secretary to write a letter on my behalf to Caru das in San Francisco. Now the matter will have to be taken up by the GBC at their general meeting and whatever decision they make you will have to abide by. This business must stop. If you fight amongst yourselves what can I do? This fighting will spoil everything.
Regarding the preaching against ISKCON by Tusta Krishna Swami and Siddaswarupa as reported by you, it is another disturbance. This matter and the matter of New Zealand president considering himself the self-appointed GBC of New Zealand, will be referred to the GBC meeting. If they criticize ISKCON still, we shall not cooperate with them.
Hoping this finds you in good health.
Your ever well-wisher,
A.C. Bhaktivedanta Swami