770131 - Letter to Jagat-guru written from Bhuvanesvara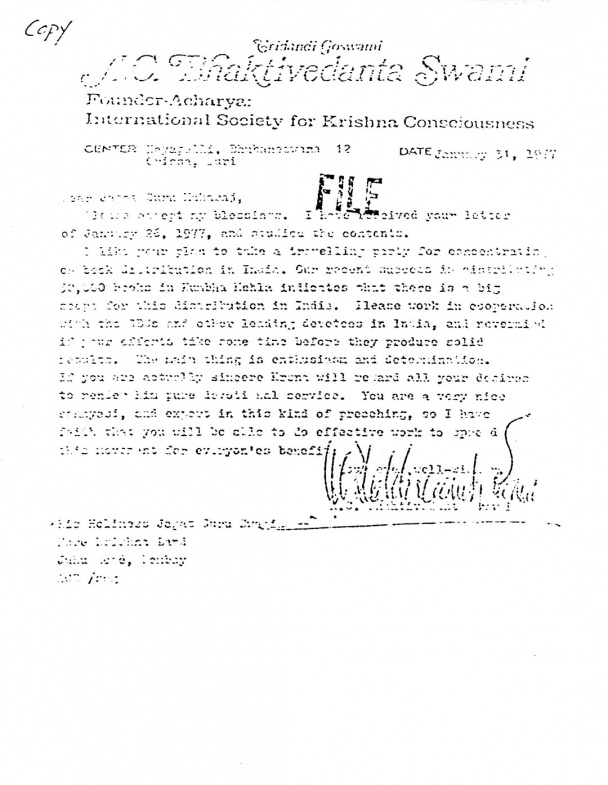 Tridandi Goswami
A.C.Bhaktivedanta Swami
Founder-Acharya:
International Society for Krishna Conciousness
DATE January 31, 1977
CENTER Hayapalli, Bhubaneswara   12
Orissa, Puri


Dear Jagat Guru Maharaj,
Please accept my blessings. I have received your letter of January 26, 1977, and studied the contents.
I like your plan to take a travelling party for concentrating on book distribution in India. Our recent success in distributing 30,000 books in Kumbha Mehla indicates that there is a big scope for this distribution in India. Please work in cooperation with the GBCs and other leading devotees in India, and never mind if your efforts take some time before they produce solid results. The main thing is enthusiasm and determination. If you are actually sincere Krsna will reward all your desires to render Him pure devotional service. You are a very nice sannyasi, and expert in this kind of preaching, so I have faith that you will be able to do effective work to spread this movement for everyone's benefit.
Your ever well-wisher,



A.C. Bhaktivedanta Swami
His Holiness Jagat Guru Maharahaj
Hare Krishna Land
Juhu Road, Bombay
ACBS/sdg