770127 - Letter to Citraketu das written from Bhuvanesvara
From Vanisource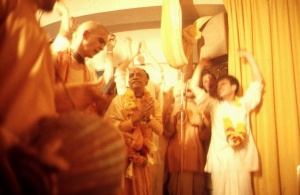 January 27, 1977

ISKCON London
7 Bury Place, Bloomsbury
London W.C. 1, England
Nayapalli,
Bhubaneswara, Orissa
Dist. Puri, INDIA

Dear Citraketudasa,
Please accept my blessings. I have received your letter, undated, along with the poems.
On hearing your poem about Narada and the Hunter I think you have done nicely. Yes, you are correct when you say you should not try to write about Krsna and the gopis; such topics are only for the most exalted devotees. I suggested that you could take the Krsna book chapter by chapter and versify it, but what you have done it is also good, Ajamil, Narada and the Hunter; there are so many topics in the Bhagavatam. Your poem, "Knowledge" was also very nice.
The grama-kavi, mundane poet, even a so called great poet like Shakespeare cannot help us in writing transcendental literature. If you want to look at his verse technique for improving your use of language you may, but it is risky because their ideas will spoil your presentation of pure devotional service. What you have done is nice, go on with it, publish in Back to Godhead as you are able, and try to become a first class devotee. Without being a devotee, your writing will not stand. Hoping this meets you in good health.
Your ever well-wisher,
A.C. Bhaktivedanta
ACBS/sdg