770124 - Letter to Swarupa Damodar written from Bhuvanesvara
From Vanisource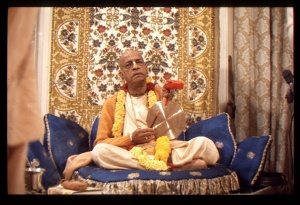 January 24, 1977

Sriman Swarupa Damodar das Brahmachary
c/o ISKCON/ Hare Krishna Land
Juhu Beach, Bombay 400 054
Nayapalli
P.O. Bhubaneswara 12
Dist. Puri, Orissa

Dear Swarupa Damodar,
Please accept my blessings. I have received your letter of January 15, and have studied the contents. I was very much anxious to hear from you, and now I hear you have gone to Manipur. You can do good work there.
Manipur has been an historic place for thousands of years. Arjuna married the daughter of the Manipur king, and his son became the King. You are, therefore, descending from the original Kshatriyas. Now you bring the knowledge of Bhagavad-gita, revive Manipur's Kshatriyism and save Vaishnavism. For this purpose of preaching in Manipur I can go in any condition of life. I have great respect for Manipur, which was a Kshatriya kingdom long before Arjuna. You can do it, you are educated and a devotee, and we shall all help you. That is wanted.
Everything can be achieved by bhakti. Make a Manipur temple like Vrindaban and Navadwipa. The people there have to be a little educated in the right line, and then the whole Manipur people will support you. If you make arrangements, then whenever you say, I shall go there.
It is good that you got your immigration status in the U.S. They only allow qualified men who can do good, so it is a good achievement. I hope this finds you in good health.
Your ever well-wisher,
A.C. Bhaktivedanta Swami