770118 - Letter to Manager, Central Bank of India written from Calcutta
From Vanisource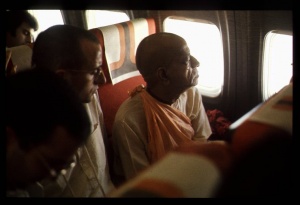 January 18, 1977

The Manager
The Central Bank of India Limited
Camac Street Branch
10, Camac Street
Calcutta-17, India
Iskcon
3 Alberta Road
Calcutta 700017, India

Dear Sir,
Please find enclosed two Fixed Deposit Receipts. Please keep these Receipts with you in your safe custody ,and renew them from the date of maturity as follows:
1) Receipt No. 8/28, for Rs. One Lakh only, in favor of Tridandi A.C. Bhaktivedanta Swami, Due Date March 8th, 1977. TO BE RENEWED FOR ONE YEAR.
2) Receipt No. 8/27, Rs. One lakh six thousand seven and paise seven, in favor of Bhaktivedanta Book Trust, Due Date March 4th, 1977, TO BE RENEWED FOR FIVE YEARS. continued and one month and the interest to [indistinct]
Please kindly sign and stamp the duplicate letter attached and return to me.
Yours faithfully,
A.C. Bhakitvedanta Swami
Enclosure: Two Receipts ACBS: rds
N.B. Please enclosed find herewith 7.2 receipt no. 8/108 for Rs 56603 3/77 n/o.[indistinct] to be renewed for five years.
A.C. Bhaktivedanta Swami
Received the above deposit for our safe custody and renewal [indistinct] of at the time of maturity.
[illegible signature]
5/2/77