770113 - Letter to Jayatirtha written from Allahabad
From Vanisource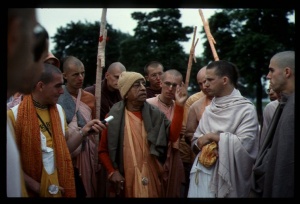 January 13, 1977

My Dear Jayatirtha,
Please accept my blessings. I am in due receipt of your letter dated Dec. 31st and have noted the contents. Let Harikesa Swami have some encouragement, and at Mayapur we can decide. He is intelligent and has got good energy. It is good news about German book printing and distribution. It is all your credit, Krsna will bless you. You are competent to decide all these things. This book printing and distributions is wanted. Thank you very much, go on and be more competent.
The Christmas distribution in England is unimaginable. Europe is a great field for preaching. New York-Radha Damodara and Los Angeles have already accepted defeat. This transcendental competition is very encouraging. But combined together, we must defeat Maya and her influence. When the Kurus and the Pandavas used to fight, there were 100 brothers on one side, and 5 brothers on the other side. But when there was another party, then the 105 brother were together. In this way, we must cooperate to spread Krsna consciousness.
Hoping this meets you in good health.
Your ever well-wisher,
A.C. Bhaktivedanta Swami