770108 - Letter to Bhagavatji and Gunarnava written from Bombay
From Vanisource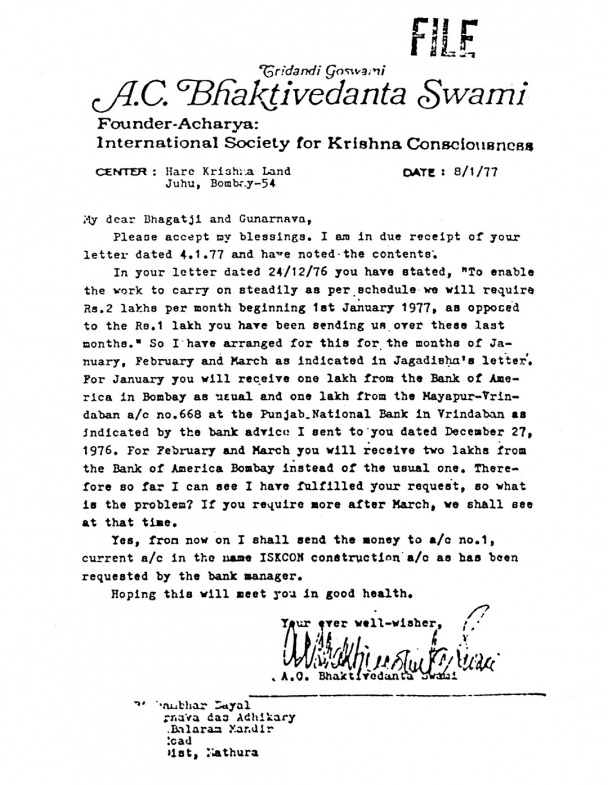 Tridandi Goswami
A.C. Bhaktivedanta Swami
Founder-Acharya:
International Society for Krishna Consciousness

DATE : 8/1/77
Hare Krishna Land
Juhu, Bombay - 54

My dear Bhagavatji and Gunarnava,
Please accept my blessings. I am in due receipt of your letter dated 4.1.77 and have noted the contents.

In your letter dated 24/12/76 you have stated, "To enable the work to carry on steadily as per schedule we will require Rs. 2 lakhs per month beginning 1st January 1977, as opposed to the Rs. 1 lakh you have been sending us over these last months." So I have arranged for this for the months of January, February and March as indicated in Jagadisha's letter. For January you will receive one lakh from the Bank of America in Bombay as usual and one lakh from the Mayapur-Vrindaban a/c no. 668 at the Punjab National Bank in Vrindaban as indicated by the bank advice I sent to you dated December 27, 1976. For February and March you will receive two lakhs from the Bank of America Bombay instead of the usual one. Therefore so far I can see I have fulfilled your request, so what is the problem? If you require more after March, we shall see at that time.
Yes, from now on I shall send the money to a/c no. 1, current a/c in the name ISKCON construction a/c as has been requested by the bank manager.
Hoping this will meet you in good health.

Your ever well-wisher,



A.C. Bhaktivedanta Swami


Bishambhar Dayal
Gunarnava das Adhikary
Krishna Balaram Mandir
Dist, Mathura