761124 - Letter to Giriraja written from Vrndavana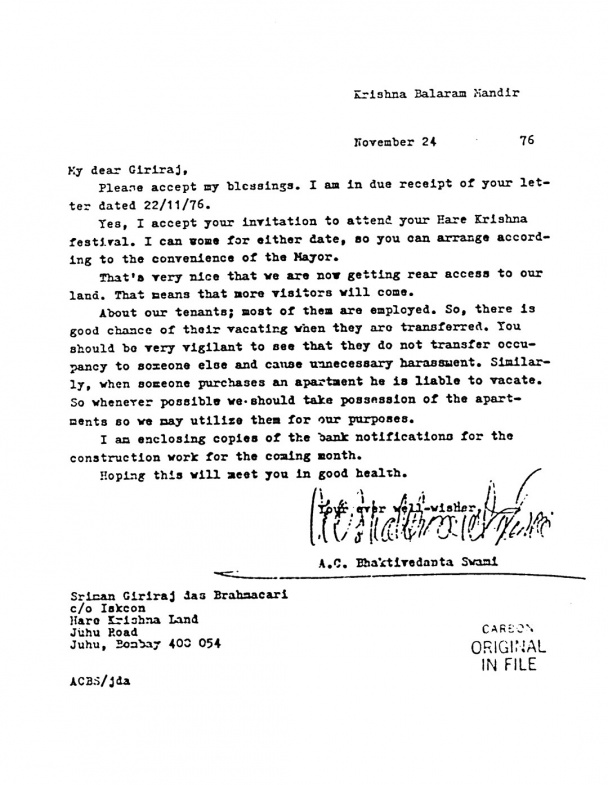 Krishna Balaram Mandir
November 24      76

My dear Giriraj,
Please accept my blessings. I am in due receipt of your letter dated 22/11/76.
Yes, I accept your invitation to attend your Hare Krishna festival. I can come for either date, so you can arrange according to the convenience of the Mayor.
That's very nice that we are now getting rear access to our land. That means that more visitors will come.
About our tenants; most of them are employed. So, there is good chance of their vacating when they are transferred. You should be very vigilant to see that they do not transfer occupancy to someone else and cause unnecessary harassment. Similarly, when someone purchases an apartment he is liable to vacate. So whenever possible we should take possession of the apartment so we may utilize them for our purposes.
I am enclosing copies of the bank notifications for the construction work for the coming month.
Hoping this will meet you in good health.
Your ever well-wisher,



A.C. Bhaktivedanta Swami
Sriman Giriraj das Brahmacari
c/o Iskcon
Hare Krishna Land
Juhu Road
Juhu, Bombay 400 054
ACBS/jda