Radharani

Krishna

Caitanya

God

God's Holy Names

Krishna Consciousness Movement

Who Is Srila Prabhupada

his Timeline

Months in his Life

Training his Disciples

Questions

Bhagavad-gita

Devotees of God

Devotional Service to God

Discipleship

Guru / Acharya

Essential Subjects

Nectar Drops

What's in Vanipedia now

Glorious Personalities

Yoga

Collaborate with us to invoke and fully manifest Srila Prabhupada's Vani-presence.
---
761115 - Conversation - Vrndavana
From Vanisource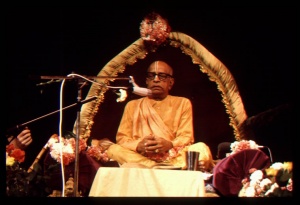 761115R1-VRNDAVAN - November 15, 1976 - 0.40 Minutes

(partially recorded)

Prabhupāda: …punishment, Kali-yuga. But this is proper punishment. Because the public also, they're not anxious to become God conscious.
Hari Śauri: No. They're anxious to avoid it. There's a few, but not many.
Prabhupāda: So they must be punished, with such rogues and thieves. That is stated in the Bhāgavatam. It is nature's punishment. (end)