761016 - Letter to Jairam Das Kuthiala written from Chandigarh
From Vanisource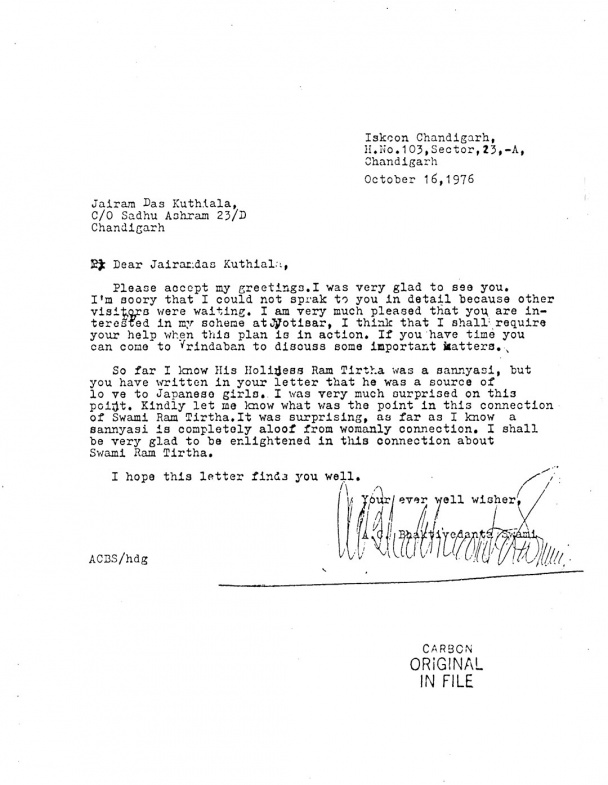 Iskcon Chandigarh,
H.No 103, Sector, 23,-A,
Chandigarh
October 16, 1976
Jairam Das Kuthiala,
C/O Sadhu Ashram 23/D
Chandigarh
My Dear Jairamdas Kuthiala,
Please accept my greetings. I was very glad to see you. I'm sorry that I could not speak to you in detail because other visitors were waiting. I am very much pleased that you are interested in my scheme at Jyotisar, I think that I shall require your help when this plan is in action. If you have time you can come to Vrindaban to discuss some important matters.
So far I know His Holiness Ram Tirtha was a sannyasi, but you have written in your letter that he was a source of love to Japanese girls. I was very much surprised on this point. Kindly let me know what was the point in this connection of Swami Ram Tirtha. It was surprising, as far as I know a sannyasi is completely aloof from womanly connection. I shall be very glad to be enlightened in this connection about Swami Ram Tirtha.
I hope this letter finds you well.
Your ever well wisher,



A.C. Bhaktivedanta Swami

ACBS/hdg